Deception
(2008)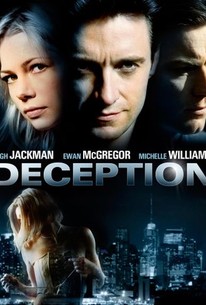 Movie Info
"Are you free tonight?" A simple enough question, but how Jonathan McQuarry answers it will change his life forever. A corporate auditor adrift in a sea of New York's power elite, Jonathan's work is his entire life. But, a chance meeting with Wyatt Bose, a charismatic corporate lawyer, introduces Jonathan to a decadent playground for Manhattan's executive upper crust. For these power brokers, whose 18-hour workdays leave no time for a personal life, there's "The List"--a sex club, of sorts, where the right cell-phone number and four simple words ("Are you free tonight?") can lead to an evening's sexual fulfillment. It's a world of "intimacy without intricacy," as Jonathan's first conquest (or vice versa) explains to him, and through The List Jonathan discovers a side of himself that he didn't know existed. But an affair with a ravishing and mysterious stranger known to Jonathan only by her first initial 'S', will expose him to yet another world he never imagined--one of betrayal, treachery and murder.
News & Interviews for Deception
Critic Reviews for Deception
Audience Reviews for Deception
½
An accountant finds himself enmeshed in a blackmail scheme and a mysterious list of liaisons. This is just your run-of-the-mill, hackneyed thriller. There aren't any surprises, and the few moments of lascivious fun aren't enough to lure anybody except a twelve-year-old who has never seen a boob before. Even the performances by Ewan McGregor and Michelle Williams feel phoned in, and Hugh Jackman has never been worse. Overall, there are worse films, but there is nothing that sets this film apart from its peers.
Jim Hunter
Super Reviewer
Like a Youtube video farce of a thriller, but with highly recognizable faces, this one plays an old game of bait and switch and hopes you'll play along and pretend to be surprised. I doubt you will. Although very stylized looking, ultimately an empty exercise.
Kevin M. Williams
Super Reviewer
There is alot about this Movie what I really liked and enjoyed but one has to see themselves to make their own minds. Imagine just one line changes your life. "How z it going?" And you are in middle of "conspiracy. Now its up to you whom you TRUST!
Deception Quotes
There are no approved quotes yet for this movie.