Il Decameron (The Decameron)
(1970)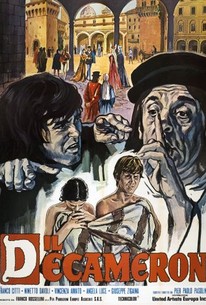 Il Decameron (The Decameron) Photos
Movie Info
Adaptación de varios cuentos del Decamerón de Boccaccio, que versan sobre el tema del erotismo popular. Galardonada con el Premio Especial del jurado en el Festival de Berlín.
Critic Reviews for Il Decameron (The Decameron)
Audience Reviews for Il Decameron (The Decameron)
Based on the 14th Century Boccaccio collection of stories, this film depicts medieval proletariat in various sexual escapades. It is an array of oddities. Toothless proles abound in this collection of stories that eschews the framing narrative of the original book, and as a result there's little that this film says on a grand scheme, excepting perhaps a vague Marxist comment. Some of the stories are funny, like the would-be thief.philanderer who falls in a pit of shit, and some of the stories are simply a mind-fuck, like the woman who plants her lover's dismembered head in a pot that rests of her windowsill. Overall, I enjoyed parts of this film, but I couldn't see its over-arching raison d'etre.
Jim Hunter
Super Reviewer
Earthy, vibrant adaptation of eight stories from the fourteenth-century work by Boccaccio. Probably Pier Paolo Pasolini's most purely enjoyable film with comedy and little erotic.
Dean McKenna
Super Reviewer
½
he unapologetic choice of ancient, crumbling and dirty locations, coupled with the choice of "real-looking" actors devoid of manufactured graces made this film feel right. 14th century Italy surely was as full of natural humour, even in close proximity to death, as this film makes out. Casual sex in spite of the threat of mortal sin is treated likewise with candour. A real masterpiece showing humanity in all its various forms.
Cassandra Maples
Super Reviewer
Il Decameron (The Decameron) Quotes
There are no approved quotes yet for this movie.