Death Wish II
(1982)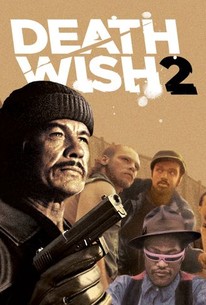 Movie Info
Paul Kersey's (Charles Bronson) self-appointed one-man vigilante squad goes bi-coastal in Michael Winner's sequel to his Death Wish. Kersey has taken up residence in Los Angeles, but lunatic violence follows him across the country like toilet paper sticking to his shoe. Kersey's Spanish cook is immediately gang-banged and killed, while his daughter, still suffering from a catatonic stupor after her brutal rape in the first film, finds herself raped yet again. Vincent Gardenia as New York detective Frank Ochoa, reprises his role from the first film here -- traveling to Los Angeles to locate Kersey but finding death waiting for him off a LA freeway ramp. After all this mayhem, Kersey cannot cringe in hiding for long, and once again he loads up his tube socks with rolls of quarters and goes hoodlum hunting.
Critic Reviews for Death Wish II
Audience Reviews for Death Wish II
First sequel to the classic revenge action drama Death Wish is a step up in violence and action. Although not as great as the first, this film still manages to be thrilling from start to finish. After the events of the first film, Paul Kersey has moved to Los Angeles to restart a new life. Unfortunately he has to deal with the same situation again when hooligans break into his home rape his housekeeper and kidnap his daughter. He decides to clean up the streets again, and hunt down the hooligans who broke into his home. As a sequel, this film definitely is very good. It's definitely darker than the first film, more violent. Charles Bronson definitely shines here, and the film has plenty of action packed moments to keep you interested. The cast do a fine job in their performances, and as a whole, I personally feel that this is a fine sequel to a great film. Although it's not as memorable as the first film, this is still a must see and is good entertainment for action fans. I think as far as sequels are concerned, this among the better entries in the series, and is my personal favorite in this series. The plot is almost the same as the first, but who cares, Death Wish 2 is good fun from start to finish and if you're looking for a good action film to watch, then look no further than this film. Fans of the first will most likely enjoy this one as well, and it has something to appeal to every action buff. If you love Charles Bronson, you'll most likely love this film. A very well crafted follow-up to the first Death Wish, this one may be a bit more violent, but that shouldn't discourage fans of the first film.
½
Weak entry in the series, still has plenty of good deaths.
Tsubaki Sanjuro
Super Reviewer
½
More brutal than the first one and the violent crank up a notch.But at times plays very cartoonsh with action sences.Micheal winner make los angeles of the early 80s a scary place to live in.I would say forget the third and other sequals and just keep to the first one and this.Chrarles Bronson is alway a pleasure to watchon screen and some of his best stuff was from the 70's and early 80's.
Brian De Guelle
Super Reviewer
Death Wish II Quotes
There are no approved quotes yet for this movie.