The Death of the Incredible Hulk
(1990)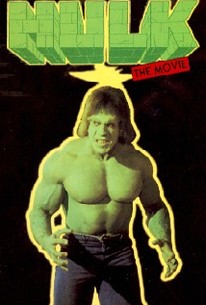 The Death of the Incredible Hulk Photos
Movie Info
Originally made for television, the story concerns David Banner (Bill Bixby), thought to be dead but actually working as a janitor at a laboratory. There, he hopes to cure himself of the monster lurking inside. However, a group of terrorists are interested in the awesome power of the Hulk.
News & Interviews for The Death of the Incredible Hulk
Critic Reviews for The Death of the Incredible Hulk
All Critics (5) | Fresh (1) | Rotten (4) | DVD (2)
It's a feckless little outing for the Mean Green Machine, with a ridiculous romantic entanglement. Plus, at two hours, this cheap production is about 45 minutes too long.
And it was not easy bein' green.
November 30, 2006 | Rating: 1/5
Audience Reviews for The Death of the Incredible Hulk
It's a shame this was director/star Bill Bixby's final movie to The Incredible Hulk series. I like the fact that they made this kind of like a spy thriller. A good conclusion to the Bixby/Ferrigno Hulk saga. This is a well written and acted finale which brings the story to an end, and while it's sad it's not disappointing. In fact it's quite fitting. After David Banner/Hulk's apparent death, the program's makers were planning for the next Hulk TV movie. Unfortunately, it was never filmed because Bixby was illness and diagnosed with prostate cancer in early 1991 and died two years later.
Dean McKenna
Super Reviewer
Some Minor Spoilers Here **************************************************************Death of the Incredible Hulk was the final Hulk movie. There were plans for another movie but they were scrapped after Bill Bixby passed away. This movie was mainly good except for one bad point which I will get to later. Firstly, it was good because it had all the usual things one expects from a Hulk show-action, intrigue and plenty of destruction. It's also an extremely sad movie. I had watched the Hulk series from beginning to end and to be honest it was a little bit too emotional watching the Hulk/Banner die. I watched this movie in 1990 and I must admit that I felt like crying. The late Bill Bixby did a great job throughout the series conveying Banner's emotions to us. As he lay on the concrete at the end and muttered, "I am free..." before dying I was quite emotional. Seeing Banner pass away without every truly curing himself was a little bit too much. I suppose death was a cure for Banner but it was still one of the saddest scenes ever in a movie. I only have one complaint with the film and I notice it is a complaint brought up by others who have reviewed this movie. It was the omission of Jack McGee from the movie. McGee was an integral part of the Hulk series. Throughout the series McGee followed the Hulk across the States and it was a bit hard to accept that McGee would not have followed the Hulk to this adventure. It was bad enough that Trial of the Incredible Hulk had omitted McGee but not having an integral character like McGee in the final film was quite bad. It is a crime committed by countless TV shows. The writers should have included McGee-even if they had to use a different actor. It would have been really interesting to see McGee standing over the dying body of David Banner exchanging words. Perhaps something like Banner saying, "You can't pursue me any more McGee" and McGee coming to realize that he had ruined a man's life for the sake of selling newspapers. The movie could have ended with McGee feeling remorse and apologizing to Banner before he passed away. That may sound over the top but any fan of the Hulk will probably tell you that this final movie should have included McGee. All in all, it wasn't a bad film. Rest in peace Hulk.
David Ladd
Super Reviewer
It's good to have the cast from the show back for the last movie but the end was a bit of a let down. The Hulk dies in a way that seems a little unlikely. But to defend the flick, he was supposed to come back to life in another tv movie but the actor died before it could be made.
Jason Spencer
Super Reviewer
The Death of the Incredible Hulk Quotes
There are no approved quotes yet for this movie.