Dean Spanley (My Talks with Dean Spanley)
(2008)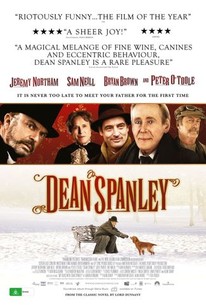 Dean Spanley (My Talks with Dean Spanley) Photos
Movie Info
Multiple Oscar nominee Peter O'Toole adds yet another offbeat role to his long resume with the mystical comedy-drama Dean Spanley. Adapted from Lord Dunsany's popular novella My Talks with Dean Spanley and helmed by Toa Fraser, the film stars O'Toole as Horatio Fisk, an irascible, cantankerous septuagenarian living out his final days at the turn of the 20th Century. Despite his distant and slightly strained relationship with his son Henslowe (Jeremy Northam), Horatio willfully joins the young man on regular outings; the tedium and monotony of these routines eventually grow so overwhelming, however, that the two decide to attend a lecture on the Transmigration of Souls by a visiting Hindu Swami. At the meeting, their paths intersect with the eccentric Dean Spanley (Sam Neill), and a friendship blossoms between Spanley and Henslowe. When Spanley joins Henslowe for a private dinner, and accepts his invitation to sample a rare Hungarian wine known as the Imperial Tokay, Spanley instinctively brings forth reminiscences of a prior life lived out as a canine - and his recollections hold a rather bizarre connection to Horatio's familial past. ~ Nathan Southern, Rovi
News & Interviews for Dean Spanley (My Talks with Dean Spanley)
Critic Reviews for Dean Spanley (My Talks with Dean Spanley)
Audience Reviews for Dean Spanley (My Talks with Dean Spanley)
Peter O'Toole adds to his legacy by boring us to death in Dean Spanley
John Ballantine
Super Reviewer
What a pleasant surprise this movie turned out to be. It's a wonderful and lovely little movie. And it's a movie that could have been pretty goofy if not handled correctly. But instead, it's handled expertly with a lot of intelligence and charm. The acting is fantastic. Peter O'Toole is out of this world, there's this scene near the end when Sam Neill's character is telling his story and Peter's facials while hearing this story were just amazing. This might sound corny, but his eyes told a story that was heartbreaking, yet at the same time full of closure for his character. The final act of the movie, overall, is just fantastic. It's touching, sweet and funny. Also I must give Sam Neill a lot of credit for his performance, it must not be easy, at least as far as preparation, to play a man who was a dog in a previous life and almost all of his dialogue would consist of memories of his life as a dog. How the FUCK do you prepare for that??? I don't know, but Sam Neill pulled it off and convincingly as well, so thumbs up. Shitty review, but this is an excellent movie. It's funny, off-beat, and touching with some amazing performances. I HIGHLY recommend this movie, not like that means a hell of a lot.
Jesse Ortega
Super Reviewer
i did really want to love this movie but i can only say i liked this movie! I tried watchng it 3 times and i still didnt get to the end as it really is my sort of movie!! i liked it because the story is original and it is sweet and like the story but it was just a litltle boring for me! It is funny in plces and sam neill is gorgouse as ever!!
Film Crazy
Super Reviewer
Dean Spanley (My Talks with Dean Spanley) Quotes
There are no approved quotes yet for this movie.