The Deadly Companions (Trigger Happy)
(1961)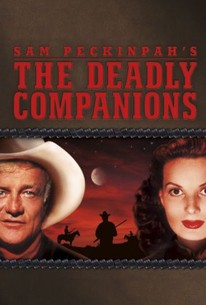 The Deadly Companions (Trigger Happy) Photos
Movie Info
Sam Peckinpah's first feature as director is this modest Western, taking place in the late 1860s. Yellowleg (Brian Keith), a former sergeant in the Union army, is obsessed with tracking down Turk (Chill Wills), a Rebel army deserter who, during the War Between the States, tried to scalp him as he lay wounded on a battlefield. Yellowleg finds Turk and his sidekick Billy (Steve Cochran) in a cantina and convinces them to help him rob a bank. They journey to Gila City, where the bank is located, and find that another group of bank robbers are also in Gila City to rob the same bank. During a shoot-out with the other bank robbers, Yellowleg accidentally kills the nine-year-old son of dance-hall hostess Kit Tilden (Maureen O'Hara). Remorseful at having caused the death of Kit's son, Yellowleg forces Turk and Billy to accompany him through Apache territory to bury Kit's son at the gravesite of her husband in the ghost town of Siringo. When Billy attacks Kit, Yellowleg throws him out of their camp. Then Turk deserts. As Kit and Yellowleg finally reach Siringo, Yellowleg realizes that he is in love with her. But then, Billy and Turk reappear, having robbed the bank in Gila City, leading to a final confrontation between Yellowleg and Turk.
Critic Reviews for The Deadly Companions (Trigger Happy)
Audience Reviews for The Deadly Companions (Trigger Happy)
½
Extremely underwhelming. The trouble is that there is just too many things here we know about or have seen before. Reminded me a lot of The African Queen, Two Mules for Sister Sara and True Grit...not to mention the fact that Brian Keith is almost a caracature of John Wayne in this. Deadly slow in pace without much to keep you interested, it's difficult to believe Peckinpah made this - but then again, this was his debut as a director so I can't discredit it completely.
Tim Salmons
Super Reviewer
A couple of good moments, but everything good gets better in Ride the High Country
Adam Mahler
Super Reviewer
The Deadly Companions (Trigger Happy) Quotes
There are no approved quotes yet for this movie.