Dead Space: Downfall
(2008)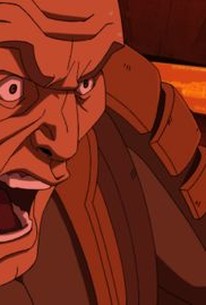 AUDIENCE SCORE
Critic Consensus: No consensus yet.
Dead Space: Downfall Photos
Movie Info
A gruesome animated movie based on the "Dead Space" video game follows a mining operation on another planet, upon which the miners discover a religious artifact and a malicious alien race. Voices: Bruce Boxleitner, Kelly Hu. Directed by Chuck Patton.
Critic Reviews for Dead Space: Downfall
All Critics (3) | Fresh (1) | Rotten (2)
It's a pity. A "Dead Space" movie had the potential of being truly scary, but that's not the case of "Dead Space: Downfall". [Full review in Spanish]
There's nothing bright and sunny about Dead Space: Downfall. It's brutal, unrelenting, and savage. Bodies are torn, eviscerated, and mutilated ... This is no kids' show.
Audience Reviews for Dead Space: Downfall
This might be one of the funniest films I've ever watched. Hey, you ever seen an Alien movie? Or a horror film? Or a long list of cliches on a website? Than you've seen this movie. The plot's construction and the list of set pieces literally read like an inept horror handbook. There is not a single element of the plot you can't predict at least 5 to 15 minutes in advance, the characters receive no time to develop. The only plus that anyone has ever noted about this film is the gore, but even that's not particularly great. The animation is beyond poor, with some of the laziest art direction of all time and some of the stiffest animation you'll ever see. On top of all of this, the CGI backdrops and sequences look worse than the videogame they're based on. I wish that was a joke. Now, at this point, anyone who reads this might be wondering, what's up with the 3-star rating (seems a little high)? Well, if you get a friend or a group of friends together to watch this mess, you'll have a blast, I almost guarantee it. I certainly did. This is riffing material unlike any other. Highly recommended in that capacity. However, if you were hoping for a dark and brilliant preamble to "Dead Space," don't seek this out.
Jacob Ethington
Super Reviewer
Just a poorly animated and terribly written rip-off of so many space set horrors. Most notably the Alien saga. The animation is jolty and is certainly missing frames. This doesn't work well during the action scenes and there is no fluidity. The characters are complete abominations. The protagonist is one of the most unlikable cunts I've ever seen on film. She questions her superiors, disobeys orders, risks humanities existence, talks down to everyone, and solves all her problems by punching people. After which, she then expects them to play along. How we were ever expected to root for such a character is way beyond me. Not only this, but during one attack scene non of the soldiers fire their weapons. Big multi-armed zombie aliens are attacking her friends and everyone stands around like impotent retards. Finally we have a script that is painful in every sense of the word. The dialog is so cringe worthy. "I'm not a hero, just a man." Vomit. Everything the main character says is filled with anger and venom, so you wonder how she achieved anything in her career. The film gets a few points for gore, as it was great to see these characters ripped apart, as that meant I didn't have to look or listen to them anymore.
Luke Baldock
Super Reviewer
It's ok to pass 90mins or there abouts, but it ain't going to win any awards. As gory as they could make it, but lacking any real quality either with the script or animation.
Stuart Brooks
Super Reviewer
Dead Space: Downfall Quotes
There are no approved quotes yet for this movie.