Dead or Alive: Final
(2002)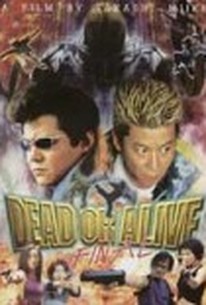 Dead or Alive: Final Photos
Movie Info
DragonBall Z meets Blade Runner meets a William S. Burroughs head trip in this hallucinogenic sci-fi flick directed by Takashi Miike. It is set in the year 2346 in the city-state of Yokohama, which has become thoroughly sinocized in the intervening 300 years. People speak a mishmash of Japanese, Chinese, and English and the streets are bathed in digital noise. The place is run with an iron fist by an exuberantly gay potentate named Woo (Richard Cheung) who, hoping to fashion a newer, crueler society, drugs the populace with a cocktail akin to Prozac-laced birth control pills. Pregnant women and children are sent to prison. Woo's lead henchman is named Honda (Riki Takeuchi), a sneering uber-cop with a Wayne Newton-style head of hair. The underground resistance is led by the English-speaking Fon (Terence Yin), his fierce girlfriend Jyun (Josie Ho), and a yellow-haired humanoid robot named Ryo (Sho Aikawa). Raids, kung-fu fistfights, and general weirdness ensue until the cataclysmic showdown between Ryo and Honda. This film is the third and final in Miike's reported Dead or Alive trilogy. ~ Jonathan Crow, Rovi
Critic Reviews for Dead or Alive: Final
Audience Reviews for Dead or Alive: Final
½
OK, this doesn't compare to the explosive tempo of the first part's opening sequence; nor to its visual shock value; nor, for that matter, to the melancholic suspense of the second installment. No, it's surprisingly and refreshingly different (apart, of course, from the two main actors). The tongue-in-cheek futuristic scenario drives the characters towards each other across genres and languages with an almost gravitational force. The moment of impact-conclusion is your choice of: a)Shakespearean metaphor of life and humanity in a cartoon costume; b)sublimation of violence into homo-erotics; c)humorous detonation of an impossible buildup. Everything up to then is even less unequivocal. Highly recommended to indiscriminate movie buffs who don't mind following foie gras with a hot dog; caution to those with more refined palates.
Cassandra Maples
Super Reviewer
½
A lot better from what i was expecting, considering that must people don't give a lot of credit to this one. It's a nice spoof of sci/fi concepts. A fit ending to a very unique trilogy.
Tsubaki Sanjuro
Super Reviewer
½
While not as fast-moving as earlier Miike thrillers like Shinjuku Triad Society, Dead or Alive: Final does pick up the pace from its two predecessors, and replaces the brutal violence of the first with some exciting martial arts/gunplay. There's a confusing climatic attempt to draw all three movies together, plus some pretty cool mecha-violence complete with a jaundiced skyline. Overall, a nice finish to an insane trilogy.
El Hombre Invisible
Super Reviewer
Dead or Alive: Final Quotes
There are no approved quotes yet for this movie.