Dead Man
(1995)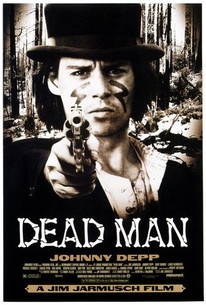 TOMATOMETER
AUDIENCE SCORE
Critic Consensus: While decidedly not for all tastes, Dead Man marks an alluring change of pace for writer-director Jim Jarmusch that demonstrates an assured command of challenging material.
Movie Info
Jim Jarmusch takes his quirky, uniquely modern sensibilities back in time, with this western black comedy about a city slicker turned gunfighter, on the run with an enigmatic Indian buddy in the Northwest wilderness.
News & Interviews for Dead Man
Critic Reviews for Dead Man
Audience Reviews for Dead Man
½
Mild-mannered accountant Bill Blake heads West, shoots a man because he's in the wrong place at the wrong time, and flees to the wilderness where he's befriended by an Indian named Nobody who believes he is the poet William Blake. Strange, mystical Western that never exactly turns surreal but always feels like a dream; the once-in-a-lifetime cast of Johnny Depp, Gary Farmer, Robert Mitchum, Gabriel Byrne, John Hurt, Lance Henrikson, Crispin Glover, Billy Bob Thornton and Iggy Pop is reason enough to watch it.
½
[img]http://images.rottentomatoes.com/images/user/icons/icon14.gif[/img]
Directors Cat
Super Reviewer
It's very difficult to pin down what this film is always doing right and what it is doing strange. Described by the very director as being an acid Western, this has also been referred to as a neo-neo-realistic Western and a plethora of other intellectual terms. Jarmusch certainly is vibrant and cool in places, mixing the deep riffs of Neil Young on electric guitar in the background with black and white tracking shots of the surrounding forest. His use of visuals, light, and cinematography really resonant after you watch it, and yet coil your stomach at the same time. What works especially well is the lack of overacting and the simplistic and yet precise directing, which leaves you with long, powerful scenes of men in the black wilderness, fighting each other, looking for meaning, and finding themselves out of their element. What is strange, and perplexes even the most seasoned of critics, is what exactly Jarmusch is trying to get through with this surrealist venture, or if there is any meaning at all. His characters spout the verses of poet William Blake, the name of the main character, who is under a mistaken identity, travelling with a Native American companion, and goes through with the ruse from there. Apparently Jarmusch stayed true to the Native American culture as well, and is one of the only white directors to take on that ethnicity and found depth and fortitude in complex storytelling. Personally, I found Blake's inner turmoil over his life's many changes and pitfalls, and then going through with the ruse to the point of exaltation and crime, to be of the same content as coming of age stories, but with a much broader approach. Though the film looks generally indie, it cost an astonishing 9 million dollars, in order to stay historically accurate. The backgrounds, costumes, and most of the historical detailing were very impressive, and were easily noticed. Jarmusch also gets use of a large cast of esteemed actors, including Johnny Depp, Robert Mitchum (in his final role), Billy Bob Thornton, and Gary Farmer, and utilizes them to their full potential, even in small scenes that would usually call for understatement. (When Iggy Pop is onscreen, you have to take notice.) Overall a mixed bag between the pretention of vagueness, the monotony of slow scenes, and the depth of meaning, however interpreted by the audience.
Spencer S.
Super Reviewer
Dead Man Quotes
There are no approved quotes yet for this movie.