Dead & Deader (Dead and Deader)
(2006)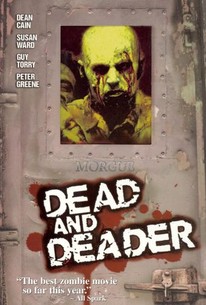 AUDIENCE SCORE
Critic Consensus: No consensus yet.
Dead & Deader (Dead and Deader) Photos
Movie Info
A hard-nosed Special Forces officer is transformed into a zombie-human hybrid who provides the only hope for preventing a zombie plague from infecting every living man, woman, and child on the planet in an all-out tale of undead terror starring Dean Cain. Bobby Quinn (Cain) was the perfect Special Forces operative. Tough, quick on his feet, and always ready for action, Quinn awakens one day in the morgue to discover that he isn't entirely human anymore. It seems that the nefarious Dr. Scott has been plotting to achieve unlimited power, and a contaminated swarm of Jindoo scorpions from Cambodia have unleashed a deadly zombie plague that threatens to spell the end of the human race. There's still time to save mankind though, and as Quinn leaps into action with a little assistance from smoldering film student Holly, military chef Judson, and a motley crew of hard-charging allies, these dogged soldiers may be able to fend off the living dead after all.
Critic Reviews for Dead & Deader (Dead and Deader)
All Critics (2) | Fresh (0) | Rotten (2) | DVD (2)
...the relentless emphasis on cornball jokes and egregiously quirky supporting characters ultimately renders the film's few positive attributes moot.
Call it C-level horror fluff if you like, but at least it moves quick and has lots of (obvious) in-jokes for the horror nerds. Like me.
Audience Reviews for Dead & Deader (Dead and Deader)
½
This movie is a riot. Just a comical zombie movie, not a whole lot of special effects that reach out and grab you but still an enjoyable movie. An attempt of trying to make most guys in the military look stupid, the director should spend a week with our troops in Iraq or Afghanistan, Guy Tony was very funny. A virus comes back to the US from Cambodia and starts turning most people in to flesh eating zombies except for Lt Bobby Quinn. Movie ended with the possibility of a sequel, to bad one was never made. 3 1/2 stars. 11-2-11
Bruce Bruce
Super Reviewer
Dead & Deader (Dead and Deader) Quotes
There are no approved quotes yet for this movie.