Daylight
(1996)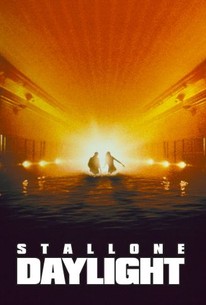 TOMATOMETER
AUDIENCE SCORE
Critic Consensus: The opening's got a great fiery explosion and Stallone puts in another earnest, sympathetic performance, but all else in Daylight feels designed to annoy the audience into submission.
Movie Info
In this disaster/adventure film, a truck containing dangerous chemicals explodes in the Holland Tunnel, trapping those New Yorkers not killed in the explosion. It is up to a former city Emergency Medical Services director, who knows the tunnel's construction quirks, to save the survivors.
Critic Reviews for Daylight
Audience Reviews for Daylight
Take 'The Poseidon Adventure' and simply place the whole idea underground in a tunnel and you have the film 'Daylight'. This film has everything you would expect from your typical disaster film. The film starts by slowly building the characters one by one, giving them each reasons why they all end up using Holland Tunnel, whilst at the same time another sub plot sets up the reason for the disaster. The reason for the outrageous incident is merely a car chase that causes a major crash into some toxic waste trucks...yeah so kinda lame then. All the survivors are the perfect line up of cliched stereotypical types which enables you to know who will live or die straight away. The setups for each type of character are all so obvious too...convicts and a cop, the old man, the panicky women and the one calm one etc... You have a mouthy young black man who's also a touchy convict (gee I wonder if he lives?), a frail old white guy, screaming panicky women, the suit wearing business man, a wannabe hero, some other young convicts including Stallone's son, a cop and a tunnel worker. So you have one or two folk who are trapped there conveniently so all hope is not lost straight away eg. tunnel worker and cop. Most are obvious fodder for the collapsing/flooding/flaming tunnel. What disaster film would be complete without the obligatory animal within the death and destruction?. Well this film doesn't let you softies off as there is (as usual) a dog involved which ALWAYS gets the viewers upset. Such an easy way to get the emotions running when the little doggie is in peril, its cliched, predictable and cheesy as hell but it never fails to work. So into the fray leaps Stallone who has nothing to do with anything but just turns up and decides to save the day single handily against all recommendations from everyone. Oh wait, he used to be a chief medical something or other, meh...its Stallone, doesn't need a reason. Despite the heavy grilled cheese the film does actually look really sound. All the effects/stunts look great and don't look seem to use too much CGI, bluescreen is evident and obvious but its not that bad. The initial disaster that sparks a chain reaction of events and a huge fireball is pretty impressive I must say, some good model work in there I think also. From there on the whole film constantly looks impressive with great sets that really give a good impression of a crumbling death trap with plenty of water, fire, rubble, metal debris and sparking electrics into the brew. So yes the entire thing is one huge melted cheese sandwich which we've all seen before and know off by heart. You could say if you've seen one disaster film you've seen them all. Certainly this is very obvious stuff but its still quite enjoyable to watch mainly because it all looks really good. The tunnel setting is also quite original methinks.
Phil Hubbs
Super Reviewer
Overwought and thinly sketched disaster flick but buoyed by a cast that delivers better than decent performances. Stallone, Mortensen, and Bloom are standouts.
Kevin M. Williams
Super Reviewer
½
A pretty terrible movie for such a decent cast. It reminds me of The Poseidon Adventure for some reason.
Tim Salmons
Super Reviewer
Daylight Quotes
There are no approved quotes yet for this movie.