Daydream Nation
(2011)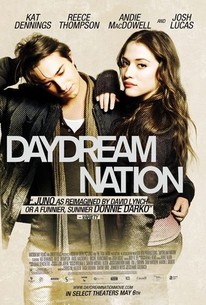 Movie Info
Seventeen-year-old Caroline Wexler (KAT DENNINGS) is facing a teenager's nightmare: her widowed father has moved them from the big city to a tiny town in the middle of nowhere. When Caroline realizes she has nothing in common with the burnout losers in her new school she pursues the one person with who excites her interest - her handsome young teacher, Mr. Anderson (JOSH LUCAS). A bizarre love triangle ensues between Caroline, Mr. Anderson, and a sweet, but troubled classmate (REECE THOMPSON). Featuring a hit indie soundtrack in this mash-up of the bizarre and the beautiful, DAYDREAM NATION is a coming-of-age story for the 21st century. --(c) Anchor Bay
News & Interviews for Daydream Nation
Critic Reviews for Daydream Nation
Audience Reviews for Daydream Nation
Everything you don't want to happen to youre daughter or if you a teacher in this film,, why do we always blame the teacher. 3 stars 12-2-12
Bruce Bruce
Super Reviewer
I've noticed a trend with movies these days that deal with teenage girls with much older men, and that's to make the teenage girl seem mature beyond her years and "in control". Meanwhile, reducing the older man to a sniveling, whiny, pathetic little boy is supposed to make it less creepy?? Wrong, doesn't make it less creepy. This subject can be done well, like American Beauty, but this one misses the mark by a landslide. Go watch (or re-watch) American Beauty instead!
Cynthia S.
Super Reviewer
½
Hmmm... It was okay. Something about it didn't quite grab me, but it was an interesting film and I can't find any real flaw with it. Cast are all fine. Kat Dennings in particular is good here as a rebellious and manipulative teen. Worth a watch, but not something I would watch again in a hurry.
Nicki Marie
Super Reviewer
Daydream Nation Quotes
There are no approved quotes yet for this movie.