Day Zero
(2007)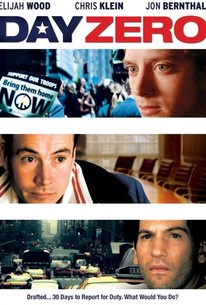 Movie Info
Dixon, Rifkin and Feller grew up together in New York. Living very different lives in the same city, their childhood friendship still binds them. Rifkin is a married lawyer whose career is on the rise. He's just made partner and is looking for any loop hole to get out of serving. Now "just isn't a good time" for him. Feller is working on his second novel. The first was a smash success, but his draft notice paralyzes him, causing severe writer's block. Instead he draws up his list of "Top 10 things to do before I serve." Dixon drives a cab, lives a solitary life and is proud and ready to serve--until he meets someone and finally has something to lose. Over 30 days, they will find their relationships tested as they confront long held beliefs about life, death, courage and love.
News & Interviews for Day Zero
Critic Reviews for Day Zero
Audience Reviews for Day Zero
½
This movie was really, really good, in my opinion. I was enthralled for the entire 2 hrs. I was amazed at how it all ended, also. Nice twist. This movie was well done, and well acted. An absolute gem, in my book.
Cynthia S.
Super Reviewer
½
This movie didn't impress me much, about the US Government starting the draft after 9-11 and gulf war. 3 Buddies get there draft notice and we travel thru time as the Days count down. We have the rich one, the cool guy, and the loser. Shows things they go through in the 30 day count down. Charlene Biton is a babe. It was pretty dry. Not sure how it got on my to see list. 2 1/2 stars, wouldn't watch it again, and it would have to be a rental.
Bruce Bruce
Super Reviewer
Day Zero Quotes
There are no approved quotes yet for this movie.