The Day of the Locust
(1975)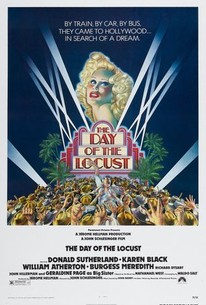 The Day of the Locust Photos
Movie Info
One of the most grim assessments of Hollywood life during the '30s, this cynical drama is adapted from a novel by Nathanael West and tells the tale of a talentless beauty's desperate struggle to become a star. The story, unfolding via flashback, is told from the viewpoint of a noted art director and features a number of ugly incidents from behind-the-scenes Tinseltown.
Critic Reviews for The Day of the Locust
Audience Reviews for The Day of the Locust
Wow, what an ugly film. Presumably, this cynical tale of Hollywood wannabes was green-lit following the success of "Chinatown." Not one likable character in the cast -- even the lead Tod (William Atherton), with his shallow love for Faye (Karen Black), is hard to embrace. Donald Sutherland gives a remarkable performance as repressed neurotic Homer Simpson (now why does that name sound familiar?), but should have entered the story much earlier. Burgess Meredith? Wonderful, but wasted in a minor part. As if the other depravities weren't enough, there's even a repulsive cockfighting scene needlessly thrown into the mix. Meanwhile, the surreal climax is like an entirely different movie (shades of "The Wall"?) and goes way, way over the top. Interesting to see the often villainous Atherton as an innocent, William Castle in a cameo as a fictional director and the pubescent Jackie Earle Haley as an insufferable child-star brat.
Eric Broome
Super Reviewer
½
Profoundly sad view of the lower rungs of Hollywood life in the 30's. Disturbing and unsettling. The climatic sequence is both horrifying and mesmerizing.
Allegorical film that depicts the moral decay of 1930's Hollywood. Donald Sutherland gave an unusual performance as Homer Simpson. The epic, horrifying climax is the true highlight of the picture, one of the best sequences of cinema ever filmed. Masterpiece.
Ivan Descartin
Super Reviewer
The Day of the Locust Quotes
There are no approved quotes yet for this movie.