David & Layla
(2007)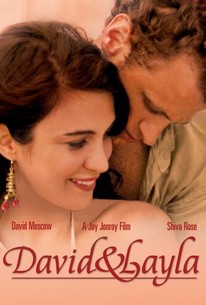 Movie Info
This warm and breezy romantic comedy from director Jay Jonroy explores an interracial romance between the unlikeliest of partners: a Muslim refugee and a New York Jew. David Fine (David Moscow), the host of a Big Apple man-on-the-street TV show called "Sex and Happiness," never expected to meet and fall in love with a Middle Eastern immigrant - particularly given his marital engagement to a Jewish partner, Abby (Callie Thorne). But his path soon intersects with that of Layla, a young woman orphaned when Saddam Hussein's troops gassed the rest of her family. She now lives with relatives in Manhattan, and (unbeknownst to the kinfolk, who believe she's a nursing student) supports herself by collecting under the table for a slightly suggestive dance act - the warm-up for a local belly dancer. With deportation looming, Layla looks for an out; a customs official suggests a marriage of convenience, but that soon becomes unnecessary when Layla meets David and deep, abiding love blooms. . . to the horror of both families.
Critic Reviews for David & Layla
Audience Reviews for David & Layla
I really enjoyed this movie. Funny, smart and romantic...a perfect chick flick in my opinion. I didnt even realize until the end that it was a true story.
Cynthia S.
Super Reviewer
Fascinating movie. Great story plot that centralizes around two young individuals, David and Layla. David first sees Layla on the streets, and is instantly mesmerized by her beauty. Using his TV show as a forefront, he spends each day trying to meet her and strike up a conversation. Layla is unimpressed at first, but it is until one night when David tries an act of awkward chivalry that has him ending up at the brunt of a broom attack. The onslaught allows him to finally be recognized, but it is only the beginning in his adventure of pursuing Layla despite the differences of religions, personal views and opinions of families and friends where attraction grows into love and affection between the two. Great cast- David Moscow, Shiva Rose McDermott, Callie Thorne, Polly Adams, Peter Van Wagner, Ed Chemaly, and Anna George. Tons of humor. Definitely worth seeing!
½
Culture clash comedy/drama with a good lead performance by David Moscow, Caricatures abound though.
David & Layla Quotes
There are no approved quotes yet for this movie.