Dark Tide
(2012)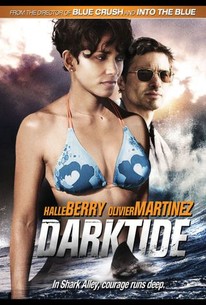 Movie Info
Kate (Berry) is a shark expert whose business has been failing since a shark attack killed a fellow diver under her command. Once dubbed "the shark whisperer," Kate is haunted by the memory of the attack and unable to get back into the water. With bills piling up and the bank about to foreclose on Kate's boat, Kate's ex-boyfriend Jeff (Martinez) presents her with a lucrative opportunity: lead a thrill-seeking millionaire businessman on a dangerous shark dive...outside the cage. Battling her self-doubts and fear, Kate accepts the proposal -- and sets a course for the world's deadliest feeding ground: Shark Alley. -- (C) Lionsgate
Critic Reviews for Dark Tide
Audience Reviews for Dark Tide
In Shark Alley, courage runs deep Very decent good movie! I liked Dark Tide mainly because of it's camera work and portrayal of the Great White shark. The underwater camera work appeared to be original and was impressive in terms of continuity, unlike most shark films where footage is borrowed from a documentary and pasted in. The behavior of the sharks is also more realistic, showing that people with experience can swim with them outside the cage and not be attacked. The action is great there is some emotional depth between the two main protagonists and to me it seemed like a very enjoyable film. Kate is a shark expert whose business has been failing since a shark attack killed a fellow diver under her command. Once dubbed "the shark whisperer," Kate is haunted by the memory of the attack and unable to get back into the water. With bills piling up and the bank about to foreclose on Kate's boat, Kate's ex-boyfriend Jeff presents her with a lucrative opportunity to lead a thrill-seeking millionaire businessman on a dangerous shark dive - outside the cage. Battling her self-doubts and fear, Kate accepts the proposal and sets a course for the world's deadliest feeding ground - Shark Alley.
½
"He wants to see big ones? Let's show him big ones." For a flick about sharks and Halle Berry in a bikini, Dark Tide is a bit dull. The movie opens with a tragedy, as Berry and her team of divers swim with great white sharks off the coast of South Africa. Fast forward, and Berry, out of the water since the incident and in financial trouble, is convinced to take a wealthy man and his son out to see some sharks, and possibly to swim with them. Shockingly, things go awry and people get chomped on. The scenery is nice, but nothing about Dark Tide is particularly memorable. It's admittedly cool to see people swimming so close to such massive predators, but the movie itself is as rote and conventional as can be. From the hotheaded character that causes trouble to the inevitable ship malfunction and "unexpected" storm. Things finally pick up a bit near the end, but it shouldn't take a movie an hour and a half to become interesting. Even then, it's not exactly a nail-biter. By the time it was all over, I was less aware of the vicious power and majesty of sharks than the need for proper anchor use and safety. Dark Tide isn't a terrible movie, but I wouldn't go so far as to call it a good one, either. If you're looking to just kill some time then you could do worse, but don't watch this expecting a lot of thrills or originality.
Anatoliy Dudaev
Super Reviewer
Dark Tide Quotes
There are no approved quotes yet for this movie.