Dark Horse
(2012)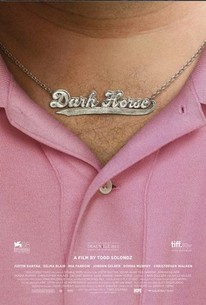 TOMATOMETER
AUDIENCE SCORE
Critic Consensus: Typically misanthropic yet curiously satisfying and incisive, Dark Horse is a movie that preaches to the cynical converted.
Movie Info
Thirty-something guy with arrested development falls for thirty-something girl with arrested development, but moving out of his junior high school bedroom proves too much. Tragedy ensues. Writer and director Todd Solondz examines the irretrievability of youth and the mercilessness of time passing in Dark Horse, a melancholy and idiosyncratic comedy starring Justin Bartha, Selma Blair, Mia Farrow, Jordan Gelber, Donna Murphy, Christopher Walken, Zachary Booth and Aasif Mandvi. -- (C) Official Site
News & Interviews for Dark Horse
Critic Reviews for Dark Horse
Audience Reviews for Dark Horse
½
"Dark Horse" doesn't have the bite it thinks it does, but it makes its point (quite unsubtly) before ending abruptly. It's flawed, almost to the point of being unacceptable, but it's got just enough going for it to end with a strange satisfaction that made me think about the purpose of and intentions behind movie characters.
Sam Barnett
Super Reviewer
½
A thirty-year-old brat convinces a hapless woman to marry him. Todd Solondz specializes in characters stuck on the edges of society, and there is no Solondz character more on the edge than Abe. His whiny narcissism is foundationally unattractive, and while I find myself agreeing with his Holden-Caulfield-esque denunciations of society and cruelty, I wish Abe weren't the one voicing these objections. Jordan Gelber plays the part without any care for what the audience thinks of him, and for this he should be lauded; it's Solondz, on the other hand, who fails to give us some small redeemable quality that makes us sympathize with his protagonist until the end. My comments about Gelber extend to Selma Blair, who also shines in a difficult acting challenge. What is Solondz saying with this film? I think Solondz is presenting an anti-inspirational story, an antidote to Nicholas Sparks. He gives us the most annoying hero anyone could ask for, makes us think we should root for him, and then finishes the story honestly. Solondz is dark, and this film may be his darkest yet. The problem is that what works as a conceptual response to a genre of film doesn't necessarily work as a compelling story in itself. Overall, I like the idea behind this film, but I couldn't stay with the execution for very long.
Jim Hunter
Super Reviewer
½
From the nice opening sequence where the camera pans slowly from people goofily dancing at a wedding (and why is it that the scene is so depressing???), to the main character Abe, sitting at a table next to a stunningly depressed looking woman, you'd think that this film has serious potential. As the scene follows, Abe tells the woman that he, on principal, doesn't dance (which is an offhand, and very protective way of asking her if she wants to... for if she says she likes to dance then he can come off as a hero and, setting aside his principals, ask her. If she doesn't respond then no harm no foul). This is the setting for a film about an eternal adolescent, Abe, well played by Jordan Gelber, who is stuck in his mid thirties life (one that he has chosen, by the way), where he lives at home and works (sorta) for his father. Said father, portrayed by Christopher Walken, is dismissive of his underachieving son, though he lets him live at home and provides him with every opportunity to help in the family business. But sonny boy just can't seem to get it together, and it's never his fault. You can perhaps blame the overprotective mother (so naturally played by Mia Farrow), but just once you'd like to see this type of character take a hold of his life and actually do something! It is this unsympathetic character that really holds the film back, and I suppose why so many critics have raved about the film, exhorting its realism, while the main viewing public has given it thumbs down (myself included). There is pathos galore on display here, from not only Abe, but Miranda, the girl he decides to woo. Here is a woman clinically depressed, her existential viewpoint on life dripping defeat. At one point she asks Abe if he's real, as if she can't truly believe that anyone would be smitten by her. That she agrees when Abe impulsively asks for her hand is truly sad - and yet for some reason comes off on the screen as absurd. The film holds many a surreal moment, and perhaps the viewer will begin to wonder what is real and what is not - or even if the entire enterprise is nothing more than a dream. This holds your interest for a time, but towards the end I found myself no longer caring, as I found the characters of both Abe and Miranda to be repulsive - two souls wallowing in their own self pity and, particularly in the case of Abe, blaming everyone but himself for his station in life. It seems that part of writer/director Todd Solondz's message is that we are victims of an uncaring world - one full of rules that make it hard for the everyman to cope; but I think that Solondz is playing too pat a hand, with too many clichés and typical whining to really show us anything revealing and unique, try as he might. The film is dark, certainly, but a "comedy" - hardly, as there is absolutely nothing funny to laugh about on the screen, dark or otherwise. With multiple endings (if you want to see it that way), the film attempts to allow you to interpret and diagnose for yourself what it all means, and if any of it matters. Sadly for me, I had stopped caring about the characters so any potential depth of meaning held no impact.
paul sandberg
Super Reviewer
Dark Horse Quotes
There are no approved quotes yet for this movie.