Dark Blue World
(2001)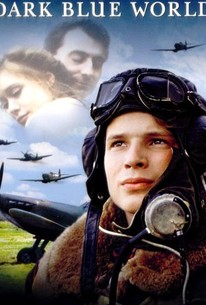 Movie Info
The friendship of two men is tested by war, political upheaval, and romantic rivalry in this drama from Czech filmmaker Jan Sverak, whose Kolya became an international success. Lt. Franta Slama (Ondrej Vetchy) is a top pilot in the Czech Air Force who is assigned to train a promising young flier, Karel Vojtisek (Krystof Hadek). Franta and Karel both share a great enthusiasm for the thrill of blazing across the sky, and they become fast friends; however, when Nazi Germany invades Czechoslovakia, Franta and Karel chafe under the authority of their new leaders, and they escape to England, where they join other Czech exiles in the R.A.F. While flying a mission over England, Karel crash lands and happens upon the farmhouse of Susan (Tara Fitzgerald), a young woman whose husband is in the Navy. Karel soon falls head over heels for Susan, but while they enjoy a brief fling, in time Susan decides she prefers the company of the older and more worldly Franta. As Franta and Karel struggle to maintain their friendship despite their romantic rivalry, the war finally comes to a close, and the Czechs return home. Trmavomodry Svet, released in English-speaking territories as Dark Blue World, also features Anna Massey and Charles Dance. ~ Mark Deming, Rovi
Critic Reviews for Dark Blue World
Audience Reviews for Dark Blue World
A Czech film about Czech fighter pilots flying for the R.A.F in world war two, the immediate build up and the aftermath. I found it very interesting to see this inspiring and also tragic tale from a Czech perspective. Fans of war films will obviously like it but there's a great deal here of a human and historical nature to fulfil a wider appeal too.
The Shrewlord
Super Reviewer
Well unfortunately for the 2001 film "Pearl Harbor", I think I have found a film that beat it in being more engaging and more dramatic, despite a less-popcorn movie feel, and the non-100 million dollar budget! Dark Blue World, or (Tmavomodry svet), isn't going to win you with high priced action scenes and effects, but it will get you with a lucid story line, that is drenched in heartfelt dialouge and makes you feel pride. So what about the acting? Well of course this film is forgien and includes both Czech and English dialouge, but you can still really feel that they know what they are doing on screen and are just as good as our Hollywood counterparts, and maybe , especcialy in this film, maybe even better then some of them. The score was rather impressive , although it wasn't as good I expected, but rather still as good as I was hoping. It really meshed well in the right action scenes, mellowing out when it was a really good time for it to slow down. Yes, somehow this film kept me thouroghly enganged throughout, and I rather found this film as a little gem for my collection. I am not sure why, but this film is a film in which you never hear of it, but when you do, you can't stop not hearing about it, from yourself!
Joseph Eastmond
Super Reviewer
Compelling and well crafted movie that tells the little-known true story of heroic pilots for whom WWII never really ended. Krystof Hádek is outstanding, I continue to be impressed with the quality of Czech actors and films.
Randy Tippy
Super Reviewer
Dark Blue World Quotes
There are no approved quotes yet for this movie.