Dark Blue
(2003)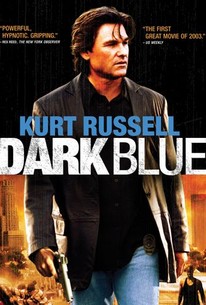 Movie Info
In America, the police are sworn to uphold the law and protect the innocent. But on the streets, it's everyone for themselves--and the streets are where policeman Eldon Perry honed his craft. Perry is a veteran cop in Los Angeles, one of the toughest cities in the world. A member of the LAPD's elite Special Investigations Squad, Perry is known for his tough street tactics, fiery temper, and a willingness to do whatever it takes to bring someone to justice. Perry plays fast and loose with the rules and goes over the line--until another cop vows to bring him down. When the SIS is assigned a high-profile quadruple homicide, Perry is put on the case along with SIS rookie Bobby Keough. Investigating the murders alongside Perry, Keough soon learns the grim realities of police intimidation and corruption. Meanwhile, Assistant Chief Holland is the only man in the department willing to stand up to the SIS. The SIS is a tight brotherhood, and no one has ever dared to take them on--until now. While Perry and Keough are trying to solve the murder, Holland is trying to end Perry's brand of single-handed "justice." Over the course of four days, the brutal murder and a racially charged trial trigger an explosive chain of events that resonate throughout Los Angeles.
Critic Reviews for Dark Blue
Audience Reviews for Dark Blue
Though the two of them are as different as chalk and cheese, this movie reminded of 'Training Day'. Kurt Russell excels in the role of a ruthless NYPD detective Eldon Perry. Scott Speedman is equally effective as his partner Bobby Keough, whose conscience doesn't agree with Eldon's methods of handling the criminals. The movie is an average police drama with not much action. It tries to weave too much in less than 2 hours duration of the movie, which makes it a bit messy and can cause distraction. Also the last half hour was very dull. Not highly recommended.
familiar stranger
Super Reviewer
Great neo-noir epic about crooked cops. Kurt Russell was great as always and really played with a different kind of role. The style of the film was truly unique. Who would've thought you could set such a story during the time of the Rodney King scandal, but it was done almost flawlessly. Even though Ellroy refuses to have his name on the project, you can definitely see his brand of storytelling throughout the film.
Conner Rainwater
Super Reviewer
½
A gripping, riveting and electrifying police thriller. An endlessly compelling and dazzeling film. Kurt Russel gives the performance of his career. If the film dosent mean much to you his performance is worth watching.
Dark Blue Quotes
There are no approved quotes yet for this movie.