Is It College Yet? (Daria: Is It College Yet?)
(2002)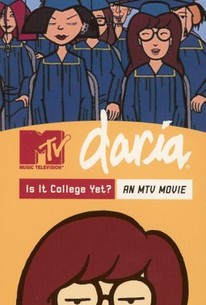 AUDIENCE SCORE
Critic Consensus: No consensus yet.
Is It College Yet? (Daria: Is It College Yet?) Photos
Movie Info
The hilariously ironic TV cartoon series Daria came to a fitting conclusion with this 90-minute "movie." Finally graduated from picture-perfect Lawndale High School, the deadpan, monotone Daria Morgandorffer and her fellow seniors face an uncertain future. Ever the cynic, Daria is sure that her boyfriend Tom will get into the high-profile college of his choice, solely on the basis of his good looks and his family's wealth. Though Daria herself plans to continue her education, one feels that she is simpatico with her wisecracking best friend Jane, who intends to burst onto the professional art world without a degree. Whatever the case, Daria has convinced herself that her own accomplishments will always take second place in the eyes of her super-judgmental parents to the small advances made by her insufferable kid sister Quinn. Whenever the film threatens to lapse into sentimentality, be assured that Daria's dry wit jolts all back to reality. Daria: Is It College Yet? made its first MTV appearance on January 21, 2002.
Critic Reviews for Is It College Yet? (Daria: Is It College Yet?)
All Critics (3) | Top Critics (2) | Fresh (3) | Rotten (0) | DVD (2)
Is It College Yet? plays out this mix of psychological realism and social satire beautifully. The film homes in on the elitism of the United States college system, as the high-schoolers head off to very different paths in life.
The series finale wasn't as loaded with one-liners as the show's average episode, but then it had to make room for sociological comment. "Daria: Is It College Yet?" was a brave farewell, placing its heroine in the context of the real, sick, sad world.
A cute movie that should be required viewing for high school juniors.
September 4, 2002 | Rating: 3/5
Audience Reviews for Is It College Yet? (Daria: Is It College Yet?)
This show did take pretty risky conflicts for an animated show, and shows in general. But, in a way, while some risky and some dramatic, it tackled it in a funny way. Thats what I love about both movies and the show, every episode (With the exception of 4[but out of 66 episodes]) were funny, clever, animated well (It was really good for the time), and had great characters, which means that this show is like 97% flawless. It really does capture the high school life perfectly, and even though the show is 14 years old, it still does capture it greatly (Hell! It does it better than the shows that are supposed to be taken seriously, you know, Glee, dawson's creek, Degrassi, etc.). And there is no character in this show that you don't know in real life, or cannot relate to. Considered the best show on MTV to be ever made? I seriously believe that.
Kevin McCarver
Super Reviewer
½
Loved it! I'm still sad that such a great series only last two seasons
Remi Logan
Super Reviewer
Is It College Yet? (Daria: Is It College Yet?) Quotes
There are no approved quotes yet for this movie.