Daredevil
(2003)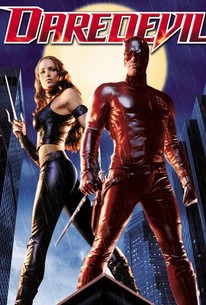 TOMATOMETER
AUDIENCE SCORE
Critic Consensus: While Ben Affleck fits the role and the story is sporadically interesting, Daredevil is ultimately a dull, brooding origin story that fails to bring anything new to the genre.
Movie Info
One of Marvel Comics' most popular characters comes to the screen for the first time in this sci-fi action-thriller. Matthew Murdock (Ben Affleck) is a lawyer whose father, a prizefighter, was killed by gangsters when Murdock was just a boy. Since then, Murdock has devoted his life to bringing wrongdoers to justice and is willing to help others by taking on cases no other attorney will touch. Murdock is also blind, after being struck down by a truck while trying to save a man from being hit. What no one knows is that Murdock was also doused with an unusual radioactive isotope which had a strange effect on him -- while Murdock's sight may be gone, his other senses have been raised to such a keen pitch that they act like radar, allowing him to tell where he's going and what happens around him, both near and far away. Murdock puts his gifts to use at night as the costumed crime-fighter Daredevil, whose pursuit of justice has earned him the wrath of underworld leader Kingpin (Michael Clarke Duncan). Kingpin wants Daredevil out of his way once and for all, and hires Bullseye (Colin Farrell), a super-assassin with an uncanny ability to throw blades, to do the job. Daredevil also makes the acquaintance of Elektra Natchios (Jennifer Garner), a woman with super-heroic talents who is also on Kingpin's bad side, though it remains to be seen if she has aligned herself with the forces of good as Daredevil has done. Jon Favreau, Joe Pantoliano, and David Keith highlight Daredevil's supporting cast. ~ Mark Deming, Rovi
News & Interviews for Daredevil
Critic Reviews for Daredevil
Audience Reviews for Daredevil
Jennifer Garner has big man-shoulders
Coxxie Mild Sauce
Super Reviewer
½
[img]http://images.rottentomatoes.com/images/user/icons/icon13.gif[/img]
Directors Cat
Super Reviewer
Back before the superhero invasion we were given this semi gritty realistic take to the man in red, and boy did they take it seriously!. Although there had been a few serious Marvel flicks before this, this was the first 'Batman-like' film to come along before the enormous Nolan film 'Batman Begins'. So what do we have? a blind man in a red leather outfit with little horns, super senses, martial arts and a custom designed billy club. To be honest I've never really been into this character and kinda though of him as a poor mans Batman. He pretty much does everything Batman does like lurking in dark alleyways and being vigilant from the rooftops in that traditional comic book gothic manner, accept DD is in New York and Batman is in Gotham. Just guys in slick suits with weapons. The plot includes the characters origins which is fine, of course its all quite predictable and similar to all superhero origins. As a kid 'Matt Murdoch' gets accidentally blinded by some radioactive liquid, his dad raises him whilst he boxes in the ring under 'Kingpin'. His dad refuses to throw a fight so he gets whacked, this causes the young Murdoch to seek revenge and become the 'Daredevil', fighting for justice, forever in darkness, a guardian devil blah blah blah...Must admit I did like the origins though, wasn't overly long and preachy, it was simple and straight forward, looked good too. To be honest the film isn't too bad it just lacks any real punch. There are of course plenty of money shots with DD leaping through the air in slow motion, plenty of acrobatics, martial arts and dark cityscapes for our hero to pose against, but its all style and no substance really...or should I say action. The opening battle within a seedy bar is by far the best action in the film, the whole sequence feels very 'Blade-like' visually and is good fun, After that everything is pretty anti climatic frankly, even the finale fights aren't that impressive. Don't get me wrong the film isn't bad, its well put together and looks quite good, its just rather dull for a superhero flick. Was this the first time we had a (sort of) crossover in a superhero flick? I think it might have been. The intro of female hero 'Elektra' is a nice add on in the film which does set up the spin-off nicely and future adventures, shame she is kinda useless here though. The bad guys are also kinda unadventurous here too, 'Bullseye' is performed amusingly at times by Colin Farrell but the character just seemed average. Apart from hurling paperclips at everyone with his deadly aim he has nothing else to offer...accept the obligatory martial arts. I just felt DD could beat this guy easily with all his super senses, body padded suit and amazing fighting skills. Clarke as Kingpin felt underused really, all he does is stand around and pose with his cane. His finale fight against DD is quite good but over too quickly, although I guess that is more realistic seeing as he's pretty heavy and slow. Not much of a fight for DD really. As for the Daredevil himself...well the character is kind of a second rate hero really, in my opinion, he's not up there with the main superstar heroes. In that sense Affleck fit the role perfectly because at the time he was a second rate action hero (still is). He doesn't quite have the looks, or the physique, or the voice, or the hair, or the jawline, he's a poor mans action hero, harsh but true. Funny to see a young Jon Favreau here, who'd have thought he would be so important in the future of comic book adaptations eh. I don't really recall the original theatrical version but this director's cut does feel much better, tighter, better plotting. I did enjoy re watching this and the added violence does indeed help. The film was never really gritty and dark but it has its moments, the DC does enhance that in places with a bit of blood, swearing and less romance...I think. But this version definitely comes across much better as I'm sure this film was much crapper when I saw it in the cinema. At the time of release this was probably one of the best Marvel flicks alongside 'Blade' and 'Blade II'. Believe it or not it was the darkest superhero flick seen ('Blade' aside as that's more horror) as 'Spider-Man' was very childish and 'X-Men' was clearly tamed for the kids. It still does hold up quite well despite cheesy billy club twirling moments, the iffy looking outfit, the hammy dialog with Elektra and typical dark goth shots on rooftops. With all those super senses I feel this guy should be a member of the X-Men really. And how exactly does getting splashed with radioactive goo in your eyes enable you to leap from the tops of skyscrapers and from rooftop to rooftop as if you can fly?!. It enhanced his senses so I don't get that connection but never mind.
Phil Hubbs
Super Reviewer
Daredevil Quotes
There are no approved quotes yet for this movie.