Daisies
(1967)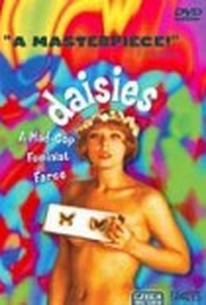 TOMATOMETER
AUDIENCE SCORE
Critic Consensus: Stylistically anarchic and spiritedly played, Daisies is a liberating rebuke of polite society that will bring the rebel out of viewers who are up for the freewheeling ride.
Movie Info
An exercise in avant-garde cinema that is freshly humorous and accessible, Daisies is a dark comedy that eschews a traditional narrative for a Dadaist construction of events. Perpetually dressed in vibrantly corresponding costumes and dark black eyeliner, Marie and Marie work together to create mischief. Seeing the world ruined and values worthless, they decide to "go bad." They stage various dinner dates with stale old men, eat and drink merrily while telling lies, and, in a fast-motion Chaplinesque bit of slapstick, they hop trains and lose the men. Always looking for new adventures, the girls get drunk at a nightclub and get kicked out in a grand physical comedy style. They sit around their apartment and destroy things with a deadpan whimsy, apathetic to the men professing their love. Pursuing adventure about town, the two Maries take a dumbwaiter up to a banquet hall and proceed to delightfully demolish it. Using both black-and-white and color film stock, the girls' antics are enhanced by innovative special effects and camera tricks by cinematographer Jaroslav Kucera. Historically a key film in the Czech New Wave movement, Daisies was banned and director Vera Chytilová was forbidden to work until 1975. ~ Andrea LeVasseur, Rovi
Critic Reviews for Daisies
Audience Reviews for Daisies
It is no surprise that this cheeky, daring and visually stylized film (which has no defined plot) was banned in Czechoslovakia upon its release, since it is centered on two anarchic, unruly teenage girls who do whatever comes to their mind, not what any man (or society) wants.
Carlos Magalhães
Super Reviewer
½
Two living dolls decide the world is spoiled and so they will be too, leading to nonlinear slapstick adventures drinking, feasting and searching for a sugar daddy. Psychedelic, surreal, silly, sexy; so much absurd hedonistic fun that it was banned by the Czech censors.
½
Made in 1966 Czechoslovakia, director Vera Chytilová's surrealist "Daisies" was banned by the Czechoslovakian government soon after it's release. Not that it was so unusual for the soviet Czech government to ban films, but looking back now, it's hard to understand what their specific beef was. Granted, there are no overt proletarian ovations to be found here, but nor is it some sort of secret capitalist conspiracy. Inspired by the French new wave, it could most closely be considered some sort of nihilistic farce, but even that might be too specific a classification for a film so mysteriously vague. Daisies defies categorization as such. It seems to stem directly from the id of it's director, who doesn't so much explain things as she does allow them to happen. As abstract as whatever the story might be, the filmmaking process is hyper-detailed. Scenes of apparent little consequence are crafted with such fine attention to the miniscule minutiae of background scenery. It could almost be considered obsessive-compulsive the amount of effort put into the "fine print" details. The film arbitrarily switches from black-and-white to various "strip" shades of color; images are filmed through various lenses, in effect, demonstrating great proficiency in the technological art of film craft. It would be almost impossible to deny there is an art to the madness happening on the screen. But what of the "story"? Well, two bored girls eat a lot, then pursue various older men for the purpose of somehow toying with their hearts. They sometimes go to visit a motherly figure who lives in a woman's public restroom and sings all her dialogue to them about how lovely and young they are. Finally, they stumble upon a large, empty banquet room where a feast has been laid out and is unattended. They help themselves to the food and destroy everything in the process. "Why", you ask? I cannot say with any certainty. This is a film of the subconscious, there's no rhyme or reason, save whatever the filmmaker was feeling at the time. It's up to the individual viewer to determine what the film actually means. All I can say with certainty is, the film gives us a look into the gently mischievous moments of youth.
Devon Bott
Super Reviewer
Daisies Quotes
There are no approved quotes yet for this movie.