The Monkey King (Da nao tian gong)
(2014)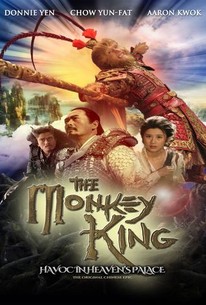 AUDIENCE SCORE
Critic Consensus: No consensus yet.
The Monkey King (Da nao tian gong) Photos
Movie Info
The story of a Buddhist monk's pilgrimage to India to collect religious texts.
Critic Reviews for The Monkey King (Da nao tian gong)
All Critics (2) | Top Critics (1) | Fresh (1) | Rotten (1)
Soi Cheang infuses a simplistic, action-driven narrative with inexhaustible energy, but one expects greater stylistic flair and substance from the veteran helmer behind "Motorway" and "Dog Bites Dog."
[A] massive sense of spectacle overwhelms a somewhat simplistic take on the mystical tale of Simian spirit Sun Wukong, but what an impressive display it proves to be in the hands of director Soi Cheang.
Audience Reviews for The Monkey King (Da nao tian gong)
½
The final third redeems an otherwise pedestrian fantasy film. The ambition isn't matched by the budget and we are presented with horrendous special effects that take you away from the action. I had wanted to see this mainly because of the brilliant Donnie Yen but we don't get anything from his casting. The film is a mess of storytelling, carbon practical effects and special effects. I honestly would've watched Monkey magic instead of suffering throuh this laughably bad action/fantasy film. Don't believe all the record breaking at the box office, this is a bad film that wastes a great cast and source material. 09-05-2017.
Brendan O'Connor
Super Reviewer
½
The battle between good and evil has been a constant in all forms of entertainment since, really, its existence. You could even go to the bible with God vs Satan. Batman vs The Joker. The Jedi vs The Sith. Superman vs Lex Luthor. Thor vs Loki. The Republican Party vs basic human decency and compassion. The point is that this is a plot device that's been used and will continue to be used for as long as there are films, comic books, television series or video games. This brings us to this film which, really, features the same simplistic plot of good vs evil. The similarities of a fallen demon fighting back against heaven to take his place on what he feels is his rightful throne to the aforementioned god vs satan from the bible. The titular monkey king is the key to the battle here, as he is the only one that can open the gates to heaven for the demon, whose name I cannot remember, to take his fight to heaven. Realistically speaking, the story, while simplistic enough, is irrelevant. The film relies more on its visuals than it does on its storytelling prowess. The Monkey King's progression as a character reminds very much of Thor in his first Marvel movie. Thor was arrogant and immature, so he was cast out to live among mortals to maybe learn some humility. The Monkey King is certainly more immature, him being a monkey and all, and not as arrogant as Thor. Though there's certainly some arrogance from the monkey, but I felt it was more the fact that he was clueless more than actual, purposeful hubris. The first 85-90 minutes of the film are just MK fucking around, doing shit that upsets the heavens. This is where the movie falters, to me. It's just the fact that it plays more like a broad slapstick comedy as opposed to the origin story of the Monkey King, a real figure in Chinese folklore and mythology. Yes, the character has a certain arc and he is definitely a changed character at the end of the film when compared to how he was at the beginning. But I don't think the movie does a great job at capturing the character's transition. One aspect of the film that surprised me is the fact that they actually cast Donnie Yen. Don't get me wrong, I love Donnie Yen but it's certainly really weird seeing him in this type of role that requires him to be a little more expressive than he normally is. At least in the conventional sense, since he has to, pretty much, act like a monkey. With that said, in my opinion, as far as martial artists go, Donnie Yen is the best pure actor, if I can call it that. At least from what I've seen. But his acting style is certainly a little more stoic and level-headed, so it's just weird seeing him in this movie where he has to put on a more over-the-top, theatrical performance. I really can't say as to how well he did, because, to be honest, I found the Monkey King character to be somewhat annoying. And I don't know if the blame can be placed on Donnie or on how the character was written. I'd say it was a mix of both honestly. I realize the narrative is meant to tell Monkey King's origin of how he came to be stuck in this mountain for 500 years as punishment for his actions (which is where the sequel to this picks up) and how his unruly ways undid everything in Heaven's Palace, but the character itself could have been a little less annoying, at least in my book. But the movie, after 90 minutes of narrative and setting everything up for Monkey King to unleash his havoc in Heaven, after being fooled by the bad guy into believing that heaven's soldiers killed his friends, does pick up greatly in the third act. The problem I had with casting Donnie Yen in this movie, in hindsight, is the fact that, until the third act, he's just not allowed to do what he does best and that is fight. When the film does go heavy on the action in the third act, this is where it is at its best. I'll say this straight up, the special effects of the film weren't great. Some of it looks really bad, to be quite honest, but I found the third act to be quite a lot of fun. It's certainly super over-the-top, there's not one hint of realism to be found here, but I found that that was part of what I enjoyed about it. Clearly the action here isn't on the level of either of The Raid movies or Mad Max Fury Road, but I enjoyed it. I don't know if I'd say that I enjoyed it enough to justify giving this 3 stars, but I certainly had fun with it. I'm sure there's a great story to tell here with this character, but this is just not that movie. Its focus on slapstick comedy and the characterization of the titular character held it back. The third act is full of action and is the definite highlight. Because of those inconsistencies, however, I can't really recommend this movie. It's certainly decent enough, but it's not what I would call good.
Jesse Ortega
Super Reviewer
½
Pou-Soi Cheang goes up, down, and all around with The Monkey King. For most of its entirety, which is nearly 110 minutes, the storytelling moves from place to place and scene to scene in orderly fashion. The problem is, despite the playful atmosphere, the connection and movement between everything. There isn't much in the way of character buildup and smooth transition between plot details. There is extremely heavy reliance on CG and green screen; too much for its own good. At times, the visuals delight and entertain the eye; however, much of the story and action gets enveloped by it all. Donnie Yen, along with the voice-work, provides a very lively Monkey King with a little bit of an annoyance factor. Thanks to the CG there isn't much martial arts action to enjoy from him. Bummer. Chow Yun-Fat and Aaron Kwok are the other notable cast members. The Monkey King does showcase its budget, leaving enough on the table to be watchable.
The Monkey King (Da nao tian gong) Quotes
There are no approved quotes yet for this movie.