Crush
(2002)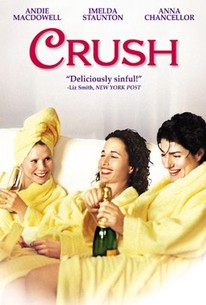 Movie Info
A woman edging into middle age finally finds the love of a lifetime; too bad she can't convince her best friends it's for real in this lively romantic comedy. Kate (Andie MacDowell), Molly (Anna Chancellor), and Janine (Imelda Staunton) are three close friends in their early forties who have been sharing a long run of bad luck in the field of romance. While all three are successful in their careers -- Kate has been named headmistress of an upscale private school, Molly is a doctor, and Janine's a police detective -- they've been striking out in the dating scene, and they get together on a regular basis to compare notes and drown their sorrows in cocktails and chocolate. One day, while attending the funeral of a colleague, Kate makes the acquaintance of Jed (Kenny Doughty), a good-looking man who remembers Kate as one of his teachers when he attended the school years ago. Despite the decade-and-a-half gap in their ages, there's a strong mutual attraction between Kate and Jed, and before the day is over the two are enjoying an affair. Molly and Janine are at once amused and appalled at Kate for dating a younger man, and while she tells them it's a short-lived fling that means little to either party, neither Kate nor Jed wants to walk away from their relationship; before long Kate and Jed decide they've fallen in love and plan to get married. The harder Molly and Janine try to convince Kate that she's making a mistake, the more Kate is determined to tie the knot with Jed, and eventually Molly and Janine decide to take drastic measures -- Molly hatches a plan to seduce Jed, while Janine captures their tryst on videotape.
Audience Reviews for Crush
Hard movie to get through. Pretty okay movie though.
Leigh Ryan
Super Reviewer
Crush Quotes
There are no approved quotes yet for this movie.