Cruel World
(2006)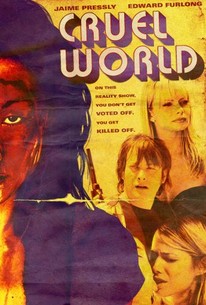 AUDIENCE SCORE
Critic Consensus: No consensus yet.
Movie Info
Television takes a turn towards the terrifying as a disgruntled contestant who was recently dismissed from a high profile reality shows takes a group of frightened co-eds hostage on the set of his own imaginary show in director Kelsey T. Howard's savage satire of the popular TV trend. Edward Furlong and Jaime Pressly lead a talented cast of rising stars that also includes Aimee Garcia, Susan Ward, and Andrew Keegan.
Critic Reviews for Cruel World
All Critics (3) | Top Critics (1) | Fresh (1) | Rotten (2) | DVD (2)
This cross of reality-TV with slasher thriller is a clever and compelling enough adventure to keep you guessing and on the edge of your seat right up to the shocking conclusion. And finally, a horror flick where the black guy doesn't die first!
Watchable, but not quite a cult classic.
October 26, 2006
Audience Reviews for Cruel World
The formula for Horror is very simple. Outrageous characters, creepy music, blood, and lots of beautiful people, but Cruel World is one of those rare Horror films that actually has a story worth telling. After being scorned on a reality dating show, Philip Markham (Edward Furlong) has decided to create his own show. A fear factor type competition with a one million dollar reward. The only problem is when you lose the game, you lose your life, a stipulation the contestants weren't previously aware of. This was a fun film for me, because not only is it original, but it has a cast full of seldom seen 90s teen idols. My regular readers know by now that I consider Edward Furlong to be one of the hardest working, most under appreciated actors in all of Hollywood, but to be honest, he wasn't anything special in this film. Furlong's character is one of those evil geniuses that really seems to be all bark and no bite. The true stars of this film are the lesser known contestants like, Andrew Keegan and Sanoe Lake. The contestants are all oblivious and watching them trying to figure things out under the guise of winning a competition was really clever. The contestants and the competitions are really what helps to distinguish this film from all the other slash films. While including the four elements, and finding a lot of reasons for the pretty people to take their cloths off, there is actually a better than average story here and an experienced cast. The combination of the two make this film much more entertaining than the slasher films you've become accustom to. While I was disappointed in the fact that Edward Furlong couldn't carry this film in the way I've become accustom to seeing, there were still plenty of great performances and exciting moments. If you're a big Horror fan like I am, and you're looking for something a little bit different, give Cruel World a try.
Todd Smith
Super Reviewer
Not that much of a good movie...It was very boring and slow-paced with very little action to it. It could've had a better ending, too.
Jacob Palacio
Super Reviewer
½
Add a review (optional)...
Nick Grimm
Super Reviewer
Cruel World Quotes
There are no approved quotes yet for this movie.