Crossing the Line
(1990)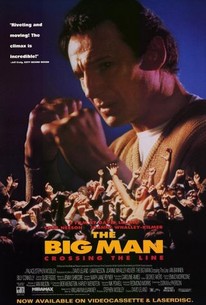 Movie Info
Adapted from the William McIlvanney novel The Big Man (which provides the film's alternate video title), this story concerns a shafted mineworker (Liam Neeson) who lost his job during a mid-'80s strike. Desperate to regain his manhood and a living wage, he decides to enter a bare-knuckle-boxing tournament to make money.
Critic Reviews for Crossing the Line
Audience Reviews for Crossing the Line
½
Well, Liam Neeson's boxing days are finally back, and if that doesn't get your blood pumping, well, then, you must be watching this film rather than just hearing about it, because the final product isn't too thrilling. Of course, when you look through this film and just ponder upon Neeson's boxing days, it's hard not to get a little shaken up, because I wouldn't have wanted to mess with Neeson when he got started boxing at age nine. Well, in all fairness, Northern Irishmen are so tough that I wouldn't want to mess with any of them, no matter how young, but that especially goes for an adorable little Liam Neeson. Man, this guy is so awesome that even if the films he's in aren't as strong as they probably could have been, their titles are still mighty ominous, or at least their American titles are. Don't get me wrong, this film's original Scottish title, "The Big Man", sounds kind of cool, but in a bit of a sarcastic fashion, yet when I hear "Crossing the Line", I'm envisioning Liam Neeson going "Taken" on everyone... while Hugh Grant is off doing some cocaine. Jokes aside, Grant isn't really in here all that much, probably because they just brought him in so that they could have a token non-Scottish Brit, because this film is so Scottish that the closest thing it's got to a second Englishman in the higher billing spots of the cast is an Irishman. Of course, that's not to say that the balance in less Scottish British accents is the only thing that Neeson can't save, for although this film is decent, it hardly "crosses the line" beyond underwhelmingness, thanks to several reasons. All too often rather quiet and dry, this film has plenty of cold atmospheric spells that rarely, if ever bore, but certainly bland things up time and again, and sometimes become just downright dull, and while there's only so much in the way of actual meandering within the structure of storytelling, the atmospheric limpness robs storytelling of pacing and leaves things to feel dragged out, at least until you hit areas in story structure that are distinctly hurried. The film is an everyman character study, and in order for the characters to be sold, you really have to flesh out why they're distinct from any given Joe in the street, so you when this film opens up telling us very little about the characters and their story, you know you're in trouble, and sure enough, after that, exposition fails to build up as much as it probably should, even though you do gain an adequate understanding of the film's story, thus diluting dramatic resonance, no matter how much this film intensely struggles to sustain your investment. As if compellingness isn't hurt enough by the bland spells and underdevelopment, for every dramatic note that director David Leland handles reasonably well, there are several dramatic notes that all but fall flat beneath the overwhelming weight of sentimentality, which could be worse, but still looms over most dramatic moments in this opus, betraying their full effectiveness. Again, when the dramatic beats hit, they move, yet perhaps more often than not, the film feels as though it's trying a bit too hard as a drama, blowing out potentially genuine moments of emotional breakthrough as kind of histrionic and reflective of an ambition to make this drama something that it, quite frankly, isn't. There's certainly plenty of potential to this film's story, so much so that a rewarding film does seem very much doable, but the ground upon which a relatively strong drama can be built is kind of unstable, being shaken by conventionalism and minimalism that are made all the clearer by the final product's ambition, alone. Taking out of account the pacing problems and underdevelopment, this film tries a bit too hard, and its doors of opportunity aren't as wide as Leland wants them to be, so, while flaws are limited, what shortcomings there are count in driving this promising project short of its potential. Nonetheless, what the film does right also goes a long way, and while that's not enough to carry the final product to the heights it could have reached on the whole, let alone the heights it wants to reach and never was to reach, there's plenty to commend here, even when it comes to the music. By 1990, alone, one of the great score composers of the 1970s, Ennio Morricone, was well on his way to obscurity (Wouldn't you know it, he's still alive), and I can't say that I'm too surprised that a name of this magnitude failed helped in any way in rising this film out of its own obscurity, not just because the score is kind of underused, but because it is formulaic and with a certain intense heart that adds to the sentimental spots, though not at all to where you can't enjoy it, because regardless of the imperfections within Morricone's work, when it finally arrives, it offers lovely compliments to the artistic value of this film. Arguably just as complimentary to artistic value, and decidedly more recurring, is, of course, Ian Wilson's cinematography, which isn't really all that playful, but has gorgeous moments of clever play with rich lighting, and when it comes to such other nifty filming aspects as framing, there's a certain stylish intimacy that is surprisingly frequent and fairly immersive, particularly when used to pump up a heavily built-up and ultimately lengthy bare-knuckle boxing sequence, whose intensity, tight staging and immersive style make it almost strong enough to fully compensate for there being no other action sequence in this "boxing" film. Stylistically, the film is surprisingly effective, and while that's not to say that this film is all that especially stylish, considering that I was going in with no real expectations for style, the musical artistry and visual artistry that this film delivers on with sharpness helps in coloring up both the final product up's liveliness - limited though it may be - and, in some case, substance's effectiveness, which does deserve its share of compliments. Again, there's nothing too special about this film's derivative and minimalist story concept, as you are reminded by the atmospheric dry spells, development problems and, of course, overambition, but at the heart of this subject matter is a wealth of worthy dramatic potential, too much of which is betrayed, but not so much so that it's difficult to notice the areas in which director David Leland really does hit, keeping charm alive and while, and sometimes backing it with a break in the sentimentality with a dramatic note whose impact ranges from compelling to genuinely rather moving. When the Leland hits, he hits fairly hard, and it should go without saying that he doesn't exactly hit as often as he probably should, yet the fact of the matter is that there are unexpectedly sharp highlights here and there throughout the final product, giving you glimpses into what could have been and being anchored by Leland inspired efforts, as well as by the inspired efforts of the onscreen carriers of this flawed character piece. Not much is said about the characters in this film, thus there's not much for the performers to work with when it comes to portraying these undercooked characters, yet most everyone has his or her own distinct charisma, particularly leading man Liam Neeson, who does more than just charm, being both sharp with a Scottish accent (Yes, people, there is a difference), and sharp with dramatic edges that would have cut deeper if there was more acting material, but still help in particularly hooking your investment in Neeson as a worthy leading man. Yeah, as surely as there's not much that is said about the reasonably well-portrayed characters, there's not a whole lot to say about the film itself on the whole, and yet, with that said, you can expect highlights that are genuinely worth witnessing, and whose bridges are anything but too challenging to your patience, as there is enough consistent heart to this drama to keep you going, no matter how much your investment gets shaken. When the brawl is done, the final product is left too bruised by slow spells, underdevelopment, sentimentality and overambition behind a minimalist and rather derivative story to fulfill its full potential, yet stands its ground as decent with the lovely score work, handsome cinematography and reasonably intriguing subject matter, brought to life by effective highlights within David Leland's at least endearing directorial storytelling and by a charismatic cast, - headed by a particularly compelling Liam Neeson - that go into making "The Big Man", or "Crossing the Line", a decent, if faulty dramatic study on being driven to do dirty deeds for the sake of your loved ones and pride. 2.5/5 - Fair
Cameron Johnson
Super Reviewer
Crossing the Line Quotes
There are no approved quotes yet for this movie.