Crimes of the Future
(1970)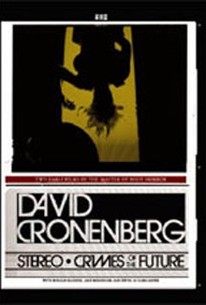 Movie Info
Fans of innovative Canadian filmmaker David Cronenberg will recognize the emergence of a his unique voice in this 1970 project, the director's second feature (following the 1969 Stereo). The bizarre premise introduces a dystopian future society in the wake of a devastating epidemic -- which killed off most of the adult female population thanks to a buildup of dangerous chemicals in cosmetics. Victims of this particularly gruesome affliction are marked by multicolored bodily secretions from every orifice -- which seem to produce an irresistible aphrodisiac effect on others. The majority of surviving females are pre-pubescent and frequently sought by creepy underground organizations of pedophiles. When one such group kidnaps a five-year-old girl, an agent from the Institute of Skin -- bearing the interesting moniker Adrian Tripod -- sets out to find her. Tripod drifts from one bizarre situation to another in his quest to find the girl, leading to several cerebral and frequently twisted episodes. ~ Cavett Binion, Rovi
Critic Reviews for Crimes of the Future
Audience Reviews for Crimes of the Future
Despite more variety in sets and the upgrade to color, "Crimes of the Future" is actually harder to sit through than the preceding "Stereo." Like "Stereo," it's essentially a silent movie with added narration and sound effects, but the narration is sparser so the action is even more difficult to follow. The scenario: A cosmetics-related disease has killed off most of the world's women. The afflicted secrete a strange white foam which others find arousing to taste and, well, things turn weird after that. The main character is stationed at a facility which treats victims of this "Rouge's Malady," but after all the patients die, he decides to work with feet instead. Wouldn't you? It's a good film for foot fetishists, particularly if webbed toes excite you. That must have been a fun casting call. And Ronald Mlodzik (returning from "Stereo") still has a fascinating face which looks more like an art student's sketch than the mere product of sperm and egg. There is some suggestive content involving a child which is a bit unsettling but, hey, we are talking about David Cronenberg here. It's interesting that "Down the Drain," "Stereo" and "Crimes of the Future" all take place in clinics of some sort. And droll, quirky names like Antoine Rouge, Adrian Tripod and the Oceanic Podiatry Group make me wonder if Cronenberg is a Thomas Pynchon fan.
Eric Broome
Super Reviewer
Crimes of the Future Quotes
There are no approved quotes yet for this movie.