The Crime of Padre Amaro
(2002)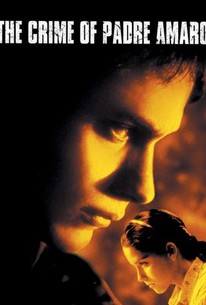 The Crime of Padre Amaro Photos
Movie Info
A priest discovers the path of virtue can be steep, and temptation can demand a heavy price, in this controversial drama from Mexico. Father Amaro (Gael Garcia Bernal) is a young Catholic priest whose mentor, the Bishop (Ernesto Gomez Cruz), expects great things from him. However, like all priests, Amaro must first be assigned where he is needed most, which leads him to the small rural community of Los Reyes, where Amaro is to assist Father Benito (Sancho Gracia). To his shock, Amaro discovers Benito is hardly following Holy Law -- he's having an affair with Sanjuanera (Angelica Aragon), a woman who runs a local restaurant, and he's been helping a drug dealer launder his profits in exchange for large donations to the church, which Benito feels is justified as the funds are being used to build a hospital and orphanage for the poor. Amaro is disgusted with Benito's actions, but he soon discovers his own weaknesses when he falls in love with Amelia (Ana Claudia Talancon), Sanjuanera's teenage daughter. As Amelia finds herself falling for Amaro, she breaks off her relationship with Ruben (Andres Montiel), a reporter. Ruben responds by publishing a story which reveals the details of Benito's dealings with the drug dealers; Benito in turn tries to lay the blame at the feet of noble Father Natalio (Damian Alcazar), whose work with local peasants has been wrongly interpreted as supporting armed revolutionary factions. As Amaro tries desperately to distance himself from the growing scandal, he receives shocking news from Amelia when he learns she's pregnant with his child. The Crime of Father Amaro's portrayal of corruption within the Catholic Church led to an outcry from Catholic organizations, both in Mexico and the United States, where they attempted to organize a boycott of the film. However, the tactic failed in Mexico, where the controversy helped to boost ticket sales, making it the highest-grossing Mexican film ever in its native country.
Critic Reviews for The Crime of Padre Amaro
Audience Reviews for The Crime of Padre Amaro
½
Really good movie. Gael Garcia Bernal is a top of the line actor. This is a well made, well written, and well done film.
Cynthia S.
Super Reviewer
One of the most controversial films ever made
½
One of the most provocative, captivating and controversial films of the year. An 1875 novel by Portuguese writer Eca de Queiros is updated to modern Mexico, becoming a slick, well-acted melodrama. The film sparked controversy in Mexico for its portrayal of the Catholic church. Impressive.
Dean McKenna
Super Reviewer
The Crime of Padre Amaro Quotes
There are no approved quotes yet for this movie.