Crazy Eights
(2007)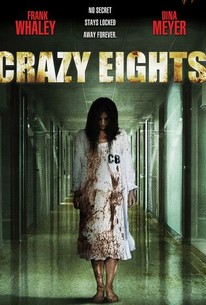 AUDIENCE SCORE
Critic Consensus: No consensus yet.
Movie Info
Six people are brought together at the funeral of a childhoodfriend. While settling the estate, they discover a map, which leads them on a search for a long forgotten time capsule, at the request of their dead friend. What they discover reawakens repressed childhood traumas and leads them on a journey through their long abandoned childhood home: a home with a terrible secret and a mysterious dead girl who will lead them to their strange fates.
Critic Reviews for Crazy Eights
All Critics (3) | Top Critics (1) | Fresh (0) | Rotten (3) | DVD (3)
Beneath late-night cable standards.
November 20, 2007
A laudable attempt at atmosphere and a handful of creepy moments are not enough to redeem this muddled mess.
Doesn't quite have what it takes to be low-key and reserved and still hold more than cursory interest.
Audience Reviews for Crazy Eights
I had to watch this movie twice because I was like WTF? after the first time. [SPOILERS] The movie was about a bunch of unlikable characters called the "crazy eights" (not sure why they're called that). They grew up in a mental institution or facility of some kind (it was very vague) when they were children. They escaped and put some kid in a trunk because she was weak or would slow them down on their escape or something. Then they forgot to get the kid, and she died. Years later they go back to the place where she died, and they enter a condemned building (the mental facility) where they are now trapped. It's a pretty stupid story line, and a confusing one. There were random flashbacks that were both irrelevant and unnecessary. Plus they were so fast I was like "wait, what was that?" The entire plot was so unstable, and it seemed like the movie didn't know what to do with it. I think they tried to add a twist, depth or something at the end with the doctor scene, but I'm still not entirely sure. In the scene, the doctor talks to one of the children and says "One box will lead you to more tests, and the other will lead you to redemption" or something. Then he was like " Guilt or redemption. Choose." It doesn't make sense as I type it, and it didn't make sense when I watched it. That scene was a complete fail. They should've just cut it out. All it did was add confusion to the already complicated movie. I watched the scene three times to try to understand, but I couldn't put it together. It was such a mess of a movie. The plot was the main problem....and the video editing. I nearly got a seizure from that shit yo.
½
One of the 8 Films to Die for 2008 Collection. It wasn't all that scary, not your typical slasher type horror, pretty mild. 8 people go back to mental hospital where they were left as kids, trouble is when they ran away they left one behind and now she want's revenge, why is it always a she that wants revenge. Anyway its worth adding to any horror collection.
Bruce Bruce
Super Reviewer
½
Capable cast in a predictable, mildly creepy story with an abrupt and unsatisfying finale. Noteworthy for how Traci Lords holds her own against the rest of the cast.
Crazy Eights Quotes
There are no approved quotes yet for this movie.