The Crazies
(1973)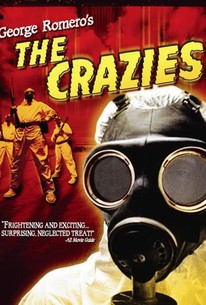 Movie Info
George A. Romero returns to Night of the Living Dead turf with middling success in this quirky end-of-civilization thriller, also released as The Crazies. The paranoid scenario involves a government-engineered killer virus (identified by the title moniker) which is accidentally released into the water supply of Evans, Pennsylvania, driving most of the inhabitants stark-raving mad and forcing the declaration of martial law as the entire town is placed under quarantine. This does not sit well with the locals -- even those who have not yet been contaminated who consider the military mobilization tantamount to war. Romero keeps the momentum up by causing an escalating series of disasters, with each attempt at resolution making the horrors exponentially worse. One might be led to consider this a metaphor for Vietnam -- the military's presence is depicted as more threatening than the killers they've been sent to subdue -- but the film as a whole is too wildly erratic to focus on allegory, generating instead a ham-fisted criticism of government power. Pontificating aside, this is an effective, fast-paced thriller, thanks to some very effective setpieces, steadily mounting tension and outbursts of jarring violence.
Critic Reviews for The Crazies
Audience Reviews for The Crazies
A small American town is quarantined by the military to prevent the spread of an extremely virulent contagion that induces madness and death. Made in between Romero's Night and Dawn Of The Dead films, The Crazies is almost like a stepping stone that provides an insight into what might have happened when the zombie plague started to spread. Unfortunately zombies are a damn sight more interesting than people going a bit batshit and as a result, this very low budget B-movie struggles to make any impact at all. It bounces between behind the scenes of the put upon military and its scientists trying to find a cure, and a group of mildly annoying civilians trying to escape the quarantine zone which amounts to the film being 50% men in uniform shouting at each other and 50% people running around in the woods shooting guns. And that's it. There are none of the clever analogies or subtexts (or plot for that matter) you find in the Dead series and it soon becomes extremely tiresome. It's clearly an influential film, the opening scenes obviously inspiring those of the Dawn Of The Dead remake and the "fast zombie" format of modern horror was clearly born here but there's just not enough to it to warrant an hour and three quarters of your time. The fact is, it's just plain boring.
First of all, Romero reuses the plot of Night of the Living Dead, but sets it outside instead. I don't know what the point of this movie is supposed to be, why didn't he just make another zombie movie? And why did they remake this?
I think I watch Romero movies just so I can give them 1 star.
James Alvarez
Super Reviewer
The Crazies Quotes
There are no approved quotes yet for this movie.