The Craft
(1996)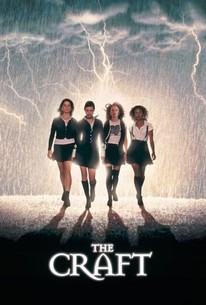 TOMATOMETER
AUDIENCE SCORE
Critic Consensus: The Craft's campy magic often overrides the feminist message at its story's core, but its appealing cast and postmodern perspective still cast a sporadic spell.
Movie Info
Sarah has always been different. So as the new girl at St. Benedict's Academy, she immediately falls in with the high school outsiders. But these girls won't settle for being powerless misfits. They have discovered "THE CRAFT," and they are going to use it.
News & Interviews for The Craft
Critic Reviews for The Craft
Audience Reviews for The Craft
My original rating of 5 stars holds, but this review relates to a rewatch in 2014. The Craft is a movie I loved when it came out in the mid 90's. I owned this on VHS and then dvd, and chances are high I will eventually upgrade to blu ray if I see it going cheap enough. Is the movie perfect? No. It's actually quite weak, especially watching it now. But somehow I think it still stands up and isn't overly dated. Essentially it's a girl power gone wrong movie. Fairuza, for me, has always been the standout. Though again, on a rewatch, a lot of her lines are quite cheesy. It doesn't really matter, she's compelling and creepy. I have always liked her, right from Gas, food, lodging. It's a pity her career did not seem to go far. Sarah Tunney is a close second as the new girl who is drawn into the group of witches. Just that little bit more mature than the other girls, but still initially gets drawn into abusing her power. It's also fun to see Christine Taylor as a bitchy blonde - another promising actress whose career seems to have stalled. There's probably no point describing the plot as most will have seen this by now. Highly enjoyable, though over the top and cheesy.
Nicki Marie
Super Reviewer
½
Supernatural teen thriller? hmmm I think we've had enough of that concept. But wait! this was back in 96 before the 'Twilight' films, plus three of the teen girls in this film are kinda slutty and dress in skimpy school uniforms!. Ahh well that's OK then, game on. Yep back in the ancient past of 1996 this film came out of nowhere and was a huge sleeper hit, in other words no one thought it would do anything but it did. Massively popular with teen girls, a film aimed for them entirely and they lapped it up. I was in college back in those days and I recall the girls in my class loving it, kinda got you worried in case the film gave them any unsavory ideas hehe. New girl in town feels slightly uncomfortable in her new surroundings and new school. Three other girls are the school outcasts and verbally bullied or made fun of by both the boys and girls. All the girls meet up and slowly become friends, all four have an interest in witchcraft or spellcraft, so they learn more, become witches and get revenge on all the kids that bullied them. The only thing is one of the girls goes too far and one has natural supernatural abilities unbeknownst to the others. Pretty straight forward but highly effective. The good thing about this film was it wasn't a nice sweet lovey dovey romance flick like...well you know. It was actually quite dark and twisted with plenty of brooding devilish imagery all to do with classic witch folklore and actual spiritual lore. The whole idea is pushed way beyond the realms of reality naturally but there is slight truth and real meaning behind certain aspects of the Pagan/witch /Wicca folklore practices the girls get up to. All four of these girls had some serious raw sexual energy also, these characters weren't your blonde princesses, they were devious and naughty. Even Tunney as the good natured girl was no let down, the film appealed to the boys just as much as the girls. The best of all being the wonderful Balk who starts off as trailer trash but evolves into a full blown gothic bitch complete with dog collars, black fingernails, black lipstick and at one point some nice tight shiny PVC pants! oh so good!. Balk also gives a brilliant performance as the unhinged 'Nancy', she is really quite unnerving towards the end with her big toothy 'Joker-like' grin. Yes you could say this is just another 'Scream' type thriller with a nice pretty young cast, it also stars Skeet Ulrich who is no stranger to teens flicks. But it really isn't, its so much more than that, the basis is the same, its kinda predictable and is full of teen angst but in general its a much better teen thriller than most. Some of the CGI looks bad now of course but there are more real time tricks which is nice to see, lots of creepy crawlies involved. You only have to look at the films poster, 'Bewitched' this is not! 'Sabrina the Teenage Witch' think again, and I repeat...there is no 'Twilight' crapola either. This is a dark, somewhat gritty, spirit invoking thriller that is a surprisingly good ride.
Phil Hubbs
Super Reviewer
Andrew Fleming's The Craft brings the sexy to witchcraft.
The film's dark fantasy concept keeps it afloat, which sort of makes up for the lack of depth in the plot. While also showcasing some amusing segments throughout, for nearly 100 minutes of screen time the story does drag at certain places. There are a few details left in the dark that leaves some minor plot holes, but all in all this picture is far from mind-boggling or boring.
The use of witchcraft isn't intense and brutal as it may sound. In other words, the violence, bloodshed, and all other creepy material affiliated to spell-casting and invoking spirits is barely enough to push this film to a restricted rating.
The four leading ladies put on fine performances and the variety in their characters help out the story. Fairuza Balk shines when she is full of energy. Robin Tunney, Neve Campbell, and Rachel True also make delicious witches.
The Craft does lack in certain places; however, it ultimately lives up to expectations.
The Craft Quotes
There are no approved quotes yet for this movie.