CQ
(2002)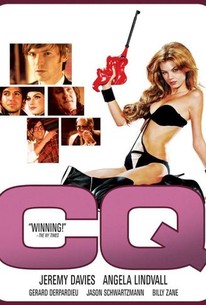 Movie Info
The feature debut of Roman Coppola (son of Oscar-winning director Francis Ford Coppola) centers around an international film crew making a low-budget, Barbarella-like feature in Paris in 1969. The film is called Dragonfly and is being directed by Andrzej (Gérard Depardieu), who wishes to make a revolutionary work rather than the tacky fluff it is becoming. He is soon fired by the film's Italian producer Enzo (Giancarlo Giannini) when he can't produce a satisfactory climactic scene. After briefly replacing Andrzej with an American horrormeister named Felix DeMarco (Jason Schwartzman), the film's editor and second-unit director, the job is finally handed to Paul (Jeremy Davies). Paul is pleased with the offer, but more devoted to his 16 mm filming of his diary of daily life. He eventually begins to fall for the leading lady (Angela Lindvall), but must retrieve footage of the feature stolen by Andrezej and try to keep the troubled production together. CQ features Billy Zane, Massimo Ghini, and Dean Stockwell in supporting roles.
Audience Reviews for CQ
½
"What is Real? What is Art? What is...the End?" A young filmmaker in 1960s Paris juggles directing a cheesy sci-fi debacle, directing his own personal art film, coping with his crumbling relationship with his girlfriend, and a new-found infatuation with the sci-fi film's starlet.
REVIEW
Filmmaker Roman Coppola proves to be a chip off the old block (his dad is Francis Ford, duh!) with this sweetly dark comic valentine to foreign films of France and Italy focusing on a struggling film editor/auteur wannabe (Davies in all his squirmy, milquetoasty glory) assigned to a disastrous sci-fi B flick where he winds up being a replacement director and falls deeply in love with his gorgeous starlet (Lindvall, the epitome of sex echoing the leonine good looks of Catherine Deneuve at her start) in the process. Coppola has a keen technical sense incorporating set and production design, costumes, camerawork, editing and low-key acting to make a picture perfect ode to the hurly-burly world of filmmaking then and now. If there is a criticism it is that it is a bit slight in its theme (filmmaker's navel gazing fails to see the big picture: love is all around) yet there's a nice homage to Coppola's relationship with his famous father in the interplay between Davies and his onscreen father Stockwell, an absent-minded businessman, echoing nicely. The title is a play on Seek You = CQ.
Lorenzo von Matterhorn
Super Reviewer
½
A visually stunnig (2002) film that takes place in Italy in 1969, whose plot revolves around the making of a Sci-Fi film meant to take place in the far-off and distant future of the year 2000. It is also a look at the inner workings of the film industry and the struggle of one editor turned director, to create a career making film while not allowing his obsession with that films star (Dragonfly) ruin his relationship with his (Real Life) girlfriend who also happens to be the star of HIS own side project which is based on his personal life. While the story is a bit convoluted at times...there is enough here (especially visually) to keep fans of film interested (especially fans of Sci-Fi and/or Italian cinema). And (call me crazy) but I would REALLY like to see the finished Sci-Fi film: "Codename Dragonfly" (think Barbarella meets Austin Powers) in it's entirety. Perhaps as an 'extra' on the DVD?
½
Would be interesting if anything actually happened.
Ken Stachnik
Super Reviewer
CQ Quotes
There are no approved quotes yet for this movie.