Courage Under Fire
(1996)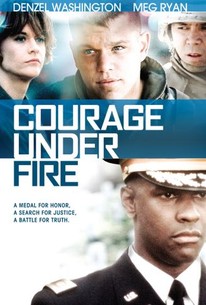 TOMATOMETER
AUDIENCE SCORE
Critic Consensus: An emotional and intriguing tale of a military officer who must review the merits of a fallen officer while confronting his own war demons. Effectively depicts the terrors of war as well as its heartbreaking aftermath.
Courage Under Fire Photos
Movie Info
A US Army officer, despondent about a deadly mistake he made, investigates a female chopper commander's worthiness for the Medal of Honor.
News & Interviews for Courage Under Fire
Critic Reviews for Courage Under Fire
Audience Reviews for Courage Under Fire
½
the rashomon technique employed by a great director and a wonderful cast, the film was intriguing and the characters compelling. one of washington and zwicks 3 films together.
½
An extremely well-told story about honor, loyalty, and doing the right thing even when the wrong way is the easiest. Denzel, like always, gives a great performance as a conflicted, disgraced former captain who carries a heavy load on his shoulders, in addition to trying to validate why a courageous soldier (Meg Ryan) deserves to be awarded the medal of honor posthumously. The different stories that are shown in this movie are incredibly integrated into an emotionally heavy plot which requires a lot from its viewers. Ryan is surprisingly great, you'd think she'd be a total miscast, but she is nothing short of outstanding here. The ending is very fitting, although certainly depressing. An overall great movie, one that deserves to be seen.
Dan Schultz
Super Reviewer
"Now let's kill 'em all." Edward Zwick, director of top movies like "Glory" and "The Last Samurai", is probably a distant relative to Steven Spielberg. Most of his movies suffer from an overdose of melodrama, and "Courage Under Fire" is a perfect example of that. I'm not a big fan of these movies that market themselves as war movies but end up being some desk officers chase for the truth. They tend to be quite slowpaced and all of a sudden pumped with aggressive discussions between two sides. The opening scene must be one of the most stupid war scenes I've ever witnessed. I'll admit, I'm not a specialist of armoured vehicle battle, but I know something about tactics and planning. I hate illogical scenes that try to be something tense and electrifying. Denzel Washington does a decent portrayal, as always, but Meg Ryan was totally wrongly cast. I've learned to like her in romcoms etc but as an officer very much unconvincing.. Some actors are just typecasted to some specific roles, that's all. I noticed that I started to enjoy the film much more during the last quarter, or so, as the story finally started to get more compelling. But "Courage Under Fire" doesn't step up enough to be something above average.
Courage Under Fire Quotes
There are no approved quotes yet for this movie.