Cop Out
(2010)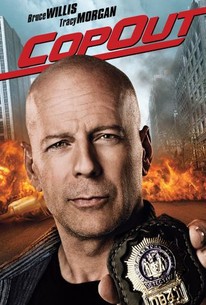 Movie Info
Bruce Willis and Tracy Morgan team up for the Warner Bros. police buddy movie Cop Out in this Kevin Smith-directed production. From a script by Robb and Mark Cullen, the story centers around police detectives Jimmy (Willis), a no-B.S. divorced dad, and Paul (Morgan), a crazy-talking loose cannon. Despite nine years as partners, the two lawmen can still sometimes seem like polar opposites -- especially when Paul's unpredictable antics get them suspended without pay. Already strapped for cash and trying to pay for his daughter's wedding, Jimmy decides to sell a rare baseball card that's worth tens of thousands. Unfortunately, when the collector's shop is robbed and the card vanishes with the crook, Paul and Jimmy end up going rogue, tracking down the card and the drug ring behind its theft, all on their own time, and without any backup -- except for each other. ~ Cammila Collar, Rovi
News & Interviews for Cop Out
Critic Reviews for Cop Out
Audience Reviews for Cop Out
½
Hmmmm this film tries way too hard to be a cool violent buddy cop flick, well basically the next Lethal Weapon franchise methinks. It falls way short of the mark in all areas to be honest. I didn't really find it funny, it just seemed so forced and to eager to result to bad language to try and make things funnier. There isn't much action, well anything to shout about anyway and well its all been done before but much much better, not even close to 'Beverly Hills Cop', '48 Hours', 'Lethal Weapon' or even 'Red Heat', I could go on. Cast wise Tracy Morgan is basically a fat Chris Tucker and nowhere near as good where as Willis is just Willis as in most of his other action flicks, in my opinion he doesn't do comedy too well mainly because he's a bald plank of wood with a set number of facial expressions. Cop out? yes it is, don't bother, nowhere near Die Hard standards on action and nowhere near the above mentioned buddy cop flick standards on comedy, plus zero originality.
Phil Hubbs
Super Reviewer
I guess Kevin Smith is done making good films.
Graham Jones
Super Reviewer
Paul: I'll fuck a little kid up if he punches me in the dick. 'Cop Out' is the "one we do not speak of", according to the many fans of Kevin Smith, who to this date insult this film. I don't particularly agree with these peoples opinions, because I quite liked 'Cop Out'. It's not a masterpiece or anything, but I laughed a whole lot and found the characters reasonably likable. My gripe with this is the plot, which is plain stupid. The whole "Mexican drug dealers" has been done countless times, and while I appreciate some new ideas that Smith incorporated, I couldn't get into this plot. I did like the actors a lot, particularly Morgan and Willis, who produce some pretty great laughs, but the lazy script (not by Smith), brings a lot of the films potential from great to average. However many people bombard 'Cop Out', I still, to this date find it fun to watch, as I'm sure many people do. Read more reviews at www.creedsdelight.com
Matt Goodman
Super Reviewer
Cop Out Quotes
There are no approved quotes yet for this movie.