Cop Car
(2015)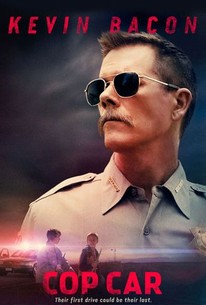 TOMATOMETER
AUDIENCE SCORE
Critic Consensus: Cop Car boasts a terrific premise and a grimly gripping opening act -- and for some viewers, that will be enough to compensate for the movie's uneven denouement.
Movie Info
Kevin Bacon (The Following, HBO's Taking Chance, Mystic River) stars in director Jon Watts' delightful throwback thriller Cop Car. When two good-natured but rebellious young boys (James Freedson-Jackson and Hays Wellford) stumble across an abandoned cop car hidden in a secluded glade they decide to take it for a quick joyride. Their bad decision unleashes the ire of the county sheriff (Kevin Bacon) and leads to brutal consequences. (C) Focus World
News & Interviews for Cop Car
Critic Reviews for Cop Car
Audience Reviews for Cop Car
½
Cop Car is a film that takes full advantage of the simplicity of its plot. Genuinely entertaining from start to finish.
Sean Thomas
Super Reviewer
I have no idea why, perhaps it's the pacing and the structure, but this film's reminds me of last year's excellent Blue Ruin. It's not nearly as good as Blue Ruin, but I'm certainly reminded of it in spirit. Though, honestly, both this and Blue Ruin were more throwback thrillers. The similarities are still apparent however. Though, as I mentioned, Cop Car is never really as good, or as clever, as it thinks it is. Don't get me wrong, it is a good movie with a good concept and execution, but there's just something about the pacing that really threw me off. This is an 84-85 minute movie that feels slightly longer than it actually is. I just don't think there are as many interesting elements going on here to actually justify the running time. And it's not even that long of a movie to begin with. I like the idea of Kevin Bacon's character searching after the people who stole his car and the panic he goes through in thinking that the person in his trunk got out and the relief he feels once he finds out it was actually kids who stole his car. Like that stuff is good, but seeing actually on the hunt for these kids, going to various places, getting different things isn't really particularly good to me. Perhaps 'not good' is the wrong term to use, it just isn't that interesting to me. I honestly kind of zoned out during these scenes, because it felt like a whole bunch of filler. Parts of it are definitely essential, but it's not like all of it was absolutely necessary in order to tell this story. I don't think anyone can really justify it all being there, no matter how much they like the film. It's also lame that the film doesn't really play more with the concept of Bacon's character being on the chase after the boys and the boys themselves knowing it and being afraid of him. The film could've ended the same exact way it did, but you should've removed a lot of the filler and add some more suspense to the film with Bacon's character actively searching and going after the kids with a furious vengeance. Again, the film could've ended the same exact way it did, but it would've felt like a more complete experience. The film also doubles as a coming-of-age film as these two boys pretty much start off the day as two innocent kids running away and they come out of it men with everything they've gone through. One of the things that did bother me about the characterization of the two boys is the fact that they're too innocent for how old they actually are. They do some incredibly stupid things for kids that are 11 or 12 years old in THIS day and age. Perhaps if the film had taken places in the 70s or 80s, it might've been believable, but not in 2015. I'm not saying kids are smarter, but they know more about how the world actually is at that particular age than ever before. So for the kids to be acting so innocently, and stupidly, it really does kind of strain credulity. The acting is good all around, though Shea Whigham pretty much steals the show here. Kevin Bacon is good, but it's not like he excels or does anything to blow your mind. Camryn Manheim is another real good actress, but she, unfortunately, doesn't get to do much here. The kids are quite good and there's certain chemistry between the two that makes it easy to buy into their friendship. They're not great, but they're good together. That's about it really, this is a good movie, but it's one that is very flawed. It's very rough around the edges, so I can't give it a glowing recommendation. It's not something I'd buy unless it was available for very cheap. I'm sure others will like it more than I did, but I just wasn't blown away by this film. It's a solid rental though, nothing more.
Jesse Ortega
Super Reviewer
Not exactly what I'd call straight forward in tone, and also doesn't really scream "Get this guy to direct a modern-day Breakfast Club inspired Spider-Man film" to me either, but that's not me saying it's a bad little bit of cinema at all, just addressing some confusion on my end.
Cop Car Quotes
There are no approved quotes yet for this movie.