Contempt
(1964)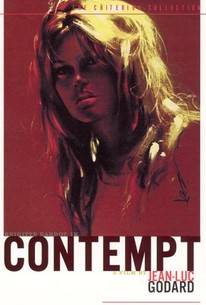 TOMATOMETER
AUDIENCE SCORE
Critic Consensus: This powerful work of essential cinema joins "meta" with "physique," casting Brigite Bardot and director Godard's inspiration Fritz Lang.
Movie Info
Contempt is the story of the end of a marriage. Camille (Brigitte Bardot) falls out of love with her husband Paul (Michel Piccoli) while he is rewriting the screenplay Odyssey by American producer Jeremiah Prokosch (Jack Palance). Just as the director of Prokosch's film, Fritz Lang, says that The Odyssey is the story of individuals confronting their situations in a real world, Le Mépris itself is an examination of the position of the filmmaker in the commercial cinema. Godard himself was facing this situation in the production of Le Mépris. Italian producer Carlo Ponti had given him the biggest budget of his career, and he found himself working with a star of Bardot's magnitude for the first time.
News & Interviews for Contempt
Critic Reviews for Contempt
Audience Reviews for Contempt
A powerful and devastating story that depicts with painful honesty the gradual dismantling of a marriage triggered by an ambiguous lack of trust, and it is a big-budget Godard gem that blends sentiment and intellectual musings in a very unique way.
Carlos Magalhães
Super Reviewer
Godard's first major international picture is a visual feast. The use of Cinescope is startling and the colors are so brilliant that they seem to leap off the screen. Godard also utilizes some of the subtly hypnotic camera work that we saw in his previous films. For instance, in one conversation between Camille and Paul, Godard lifts a scene verbatim from 1962's Vivre Sa Vie. Aside from the camera work, the film is a heartbreaking look at the disintegration of a marriage, the price of selling out, and the constant tug of war between the classical and the modern. It moves at a snail's pace but once you get a feel for it, it can at times be rather touching. With that said, I feel like Godard missed a lot of opportunities to achieve a genuine catharsis. The ambiguity of Bardot's contempt for her husband places a wall between the characters and the viewer. While I can appreciate ambiguity, in a film which centers on a single relationship I think the audience needs more to run with. On top of this, Palance's performance seemed to rub me the wrong way. I know that he is the greedy American producer, but his performance seemed way too over the top to be believable. While not Godard's best, it is definitely worth a watch.
"There's nothing like the movies. Usually, when you see women, they're dressed. But put them in a movie, and you see their backsides." Paul Javal is a writer who is hired to make a script for a new movie about Ulysses more commercial, which is to be directed by Fritz Lang and produced by Jeremy Prokosch. But because he let his wife Camille drive with Prokosch and he is late, she believes, he uses her as a sort of present for Prokosch to get get a better payment.
REVIEW
While he became far too self-indulgent later on in his career, from "Breathless" through "Week End", I am fascinated by Jean-Luc Goddard. No other filmmaker of the time managed to toy with the medium as well as he did. When it comes to meta-fiction, self reference, or breaking the forth wall, nobody can quite match Godard. In many ways, "Contempt" is one of his more restrained films, possibly since it was produced by a major studio with renowned film stars and a bigger budget. It isn't nearly as insane or shocking as "Band of Outsiders" or "Week End". However, this forced Godard to be a bit more subtle, as this contains some of his most vicious and biting attacks on the commercialization of art. Godard recognized that the major studio would attempt to bowdlerize his work, so he created a film for them about an artist being forced to compromise for profit. Past the always interesting self reference, another reason this film works so well is that its possibly the most human of Godard's works. More than ever, his characters don't appear as revolutionary mouthpieces but actual people. Maybe its because he saw a lot of himself in the main character played by Michael Piccoli, but both him and the gorgeous Bridgette Bardot play well-rounded and sympathetic characters. This is just another layer to a complex film, one which poses questions and forces you to devise answers by watching it repeatedly. This isn't my personal favorite by Godard (that is, again, "Band of Outsiders"), but its another constantly fascinating film from the cinema's most restless experimenter.
Lorenzo von Matterhorn
Super Reviewer
Contempt Quotes
There are no approved quotes yet for this movie.