Confucius
(2010)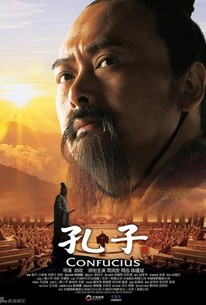 Movie Info
From the producer of Red Cliff and Warlords and shot in the same lavish style, Confucius stars superstar Chow Yun-Fat (Crouching Tiger, Hidden Dragon) as the legendary hero of the title: a man who lead the kingdom of Lu in battle against its warmongering neighbour, Qi.
Critic Reviews for Confucius
Audience Reviews for Confucius
Confucius was a statesman and philosopher during the Qin dynasty who championed education and fair government in favour of constant war between the ruling nobility and is one of the most revered figures in Chinese history. The idea of a big budget epic based upon the life of such an interesting figure played by Chow Yun Fat really appealed to me but unfortunately the script writer fell foul of a serious case of Braveheartitus and delivers a sloppy, unfocussed tale that holds its protagonist in such reverence as to render him completely two dimensional. Confucius is presented as a kind of cross between Gandhi and Robin Hood who speaks in one line fortune cookie aphorisms and every plot development is signposted with clumsy exposition, underlined with ham fisted dialogue and double underlined by the overbearingly schmaltzy soundtrack. But at least during the first half as he attempts to civilise his birthplace of Lu there is some narrative momentum; the second is just a series of context-free meanderings that's plagued by so much saccharine it would make Augustus Gloop balk. Basically this film is guilty of the same flaws of its Hollywood counterparts; too much concentration on visual set pieces and sentimentality at the expense of drama and characterisation making Confucius a great disappointment and a wasted opportunity.
Confucius (Chinese: 孔子) is a biographical drama written, produced and directed by Hu Mei, starring Chow Yun-fat as the titular Chinese philosopher. I didn't expect too much from this movie especially because I thought that it was made to commemorate the 60th anniversary of the founding of the People's Republic of China, as well as the 2,560th birthday of Confucius himself... but whatever was the reason for making it - it was well made. I have to say that it's not easy to make a biographical movie about one of the biggest thinkers of all times in a historical environment which was so complicated that you can get lost in all the names just remembering them... The film begins with Confucius as an old man, thinking back... and takes us in his early 50s, being promoted from Major to Minister for Law in his home state of Lu. There is a lot of complex politics and war, ending with Confucius being rejected and becoming a wandering scholar... and this is a part where most of the Westerners get lost, while Chinese who know their history start enjoying the events... especially when Confucius, after many hardships and losses, goes back as an old man. Finally, we're seeing the philosopher preparing the Spring and Autumn Annals, expecting that this book will determine his future influence. I liked the way the director presented the complicated age of warring Chinese states, during which countless wars were waged to unify kingdoms, and blended it with the teaching of Confucius and his intelligence and charisma. During the film's launch in China, the Hollywood blockbuster Avatar is reportedly being pulled from nearly 1,600 2-D screens across China, to benefit the wide release of this film. The Hong Kong newspaper speculated that the Chinese authorities were worried Avatar had seized the market share from domestic films and noted that many of the vacant cinema slots will be replaced by Confucius. However, due to low attendance for Confucius, and high demand for Avatar, the Chinese government reversed their decision, and allowed Avatar to remain on some 2-D screens in China. This choice appeared to be at least partly based on the financial performance of the two films, with Avatar grossing nearly 2.5 times more money per day. Whatever... this was a good, I'll say, educational movie... but if you want excitement, I don't think this is a movie for you!
Confucius Quotes
There are no approved quotes yet for this movie.