Confidence
(2003)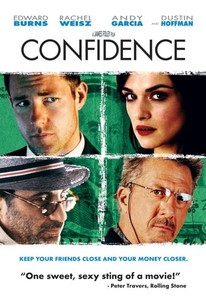 Movie Info
What Jake Vig doesn't know just might get him killed. A sharp and polished grifter, Jake has just swindled thousands of dollars from the unsuspecting Lionel Dolby with the help of his crew: Insideman Gordo, Shills Miles, and Big Al--and two corrupt LAPD officers, Lloyd Whitworth and Omar Manzano. But when both Lionel and Big Al turn up dead, it becomes clear that Lionel wasn't just any mark--as Jake soon learns, he was an accountant for eccentric crime boss Winston King. Never one to shy away from a challenge, Jake offers to repay "The King" by pulling off the biggest con of his career. The mark? Morgan Gillette, a banker with deep ties to organized crime. With so much riding on the outcome, Jake decides to bring in a brash, blonde pickpocket named Lily, who joins the crew in a complex scheme involving corporate loans, creative accounting, wire transfers and off-shore accounts. Jake and his crew will have to stay one step ahead of both the criminals and the cops to finally settle their debt.
Critic Reviews for Confidence
Audience Reviews for Confidence
A conman whose crew accidentally takes the money of a crime kingpin is forced into doing a job for him to pay back the debt. Attempting the same kind of smart, sassy and easygoing charm of the likes of the Ocean's films, Confidence is just a little too generic to really light anyone's fire. Edward Burns is rather too "made for television" to have enough charisma to carry the film, Dustin Hoffman, although a great actor in his day, at his age (and height) cannot do intimidating and easily the best character played by Andy Garcia gets nothing like enough screen time. It does have some charm and wit and is slickly directed by James Foley, but it's just a little too overly familiar and does not have enough in the way of personality or surprises to be considered for the big leagues. If it's an undemanding crime caper you're after and you've run out of Clooney films to watch, you could do a lot worse though.
Clever twists and slick humor - not as satisfying upon second viewing though. Edward Burns is charmingly stoic.
Alice Shen
Super Reviewer
½
"In every con, sooner or later, somebodys gonna ask the right questions."
A medium paced con film that should NEVER even be compared to Oceans Eleven. (O11 is fast paced and upbeat, this one just likes to take a power walk.) An all star cast ensemble that delivers just the right amount of ear catching dialogues. Starts of rather choppy but it picks up after a while.
So its nothing fresh, but its quite an interesting ride. Sure it has a few minor dents, but its also got a golden easter egg. Want to find out what it is? Watch it from start to finish.
I absolutely love the soundtrack! Christophe Beck, Fischerspooner, Groove Armanda, Zero 7 and Coldplay are just a few of the names on the OST. Check it out!!
What not to expect: Gun totting action
Director: James Foley
Rated R
Confidence Quotes
There are no approved quotes yet for this movie.