Confess
(2005)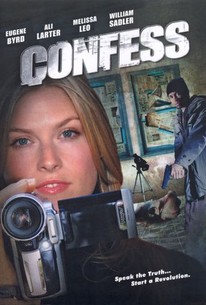 AUDIENCE SCORE
Critic Consensus: No consensus yet.
Movie Info
A disillusioned ex-hacker is branded a terrorist by the government for using his vast knowledge of technology to expose greedy CEOs, corrupt politicians, and power-hungry elitists in this thriller starring Eugene Byrd, Ali Larter, and William Sadler. Terell Lessor (Byrd) used to be one of the world's most notorious hackers, but these days he prefers to use his computer skills for vengeance. In order to get even with those who have slighted him in the past, Terell catches the guilty parties in compromising positions via strategically placed spy cameras, and then broadcasts the incriminating footage over the internet. Upon realizing precisely how much power he truly wields, Terell partners with college student Olivia (Larter) to strike fear into hearts of unethical public officials by giving them the same treatment afforded to his personal enemies. When Terell's exploits become front-page news and he is condemned as a terrorist by the government and law enforcement agencies, his once personal mission gains newfound momentum.
Critic Reviews for Confess
There are no critic reviews yet for Confess. Keep checking Rotten Tomatoes for updates!
Audience Reviews for Confess
Stefan C. Schaefer's Confess is a thriller that ends up flat like a piece of paper.
The plot revolves around a genius hacker who employs over the top methods as his form of protest against the various types of "well off" people. This hacker is written to be a hero, yet this film hardly makes him seem that way.
The movie does take a while to get going and when it does, there is just so much about it that isn't entertaining. The run time doesn't even reach 90 minutes, but it doesn't feel that brief as there are moments where too much time is spent and others with not enough. The final 10-15 minutes is a rush, when comparing it to the rest of the film, and this is a disappointment. This is where it seems that things will pick up, but all is quickly rushed away to the credits.
Eugene Byrd's acting is quite unemotional, however he still comes across as the leader of the film. Why? Because all the rest of the characters aren't written up to the level of Byrd. Ali Larter is OK with what she is given and there is no need to mention anyone else.
The concept for Confess starts out with potential. Unfortunately, this film never goes farther than that.
Confess Quotes
There are no approved quotes yet for this movie.