Coneheads
(1993)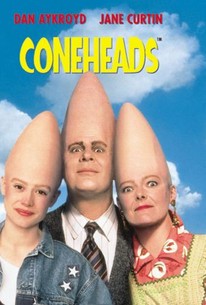 TOMATOMETER
AUDIENCE SCORE
Critic Consensus: Listless, crude, and overall uninspired, Coneheads offers further evidence that stretching an SNL sketch to feature length can be tougher than narfling a garthok.
Movie Info
The popular Saturday Night Live sketch was expanded to fill the big screen in 1993, with the same story of aliens Beldar (Dan Aykroyd) and Prymaat (Jane Curtin). Despite their coneheads, the couple adapt to life on Earth surprisingly well after crash-landing on the planet.
Critic Reviews for Coneheads
Audience Reviews for Coneheads
½
SNL madness but oh what glorious madness this is with an epic cast of comedy greats and character actors...,Aykroyd, Spade, Farley, Lovitz, Hartman, Sandler, Griffin, Sinbad, Drew Carey, Tom Arnold, Whip Hubley, Posey, DeGeneres and Jane Curtain, quite the list there. The film itself is virtually B-movie in essence and doesn't hide the fact with crazy over the top acting and cheesy looking effects which at the same time do still kinda hold up today. The sequences where Aykroyd gets his teeth capped and the fight against the 'Rancor' type monster in the finale are fantastic examples of bad/good effects. The whole film is that classic wacky genius you expect with Aykroyd and his unique thinking along with his amazing ability to reel off large segments of dialog without pause or fault. Other stars have a good time here too, especially Farley who strangely enough is the main love interest in the film and great little cameos from Sandler and Lovitz, nothing that hilarious but its funny. Its such a silly, basic, childish plot and idea but its been so well directed and lovingly created with that good old fashioned SNL 80's originated comedy that it just can't fail to win.
Phil Hubbs
Super Reviewer
Granted, an SNL skit lampooning aliens trying to fit in stretched to the limit and beyond, but its still a guilty pleasure with loads of bit parts by a star studded cast. David Spade's suck-up bureaucratic underling nearly steals the show.
Kevin M. Williams
Super Reviewer
Coneheads is mildly amusing here and there, unfortunately the script suffers from a good, engaging plot; therefore the film ends up being a mediocre comedy with unsatisfying results. Coneheads has a few laughs here and there, but for the most part, the result is uneven comedy that has many jokes that simply fall flat. Coneheads could have been a good comedy, but because of an awful script, the film doesn't cut it. I think it's a shame because there's a good comedic cast that director Steve Barron has at hand here, but they don't seem to go nowhere. The film is a mess, and a waste of time. I think it's too bad because this film had the potential of being a good, fun comedy. Not even the good cast of comedians can save this film that is sloppily written. Coneheads is a missed opportunity and even though there are some funny cast members here, they are wasted on-screen and can't save this film. Though mildly amusing at times, the jokes found in Coneheads fall flat and are unfunny. This had the potential of being a funny comedy; unfortunately it ends up being a mediocre film with barely any laughs. The cast like I said, is wasted on such poorly written material, it's a great shame. Coneheads could have been a good comedy, but the script had barely any potential for making this film work. Coneheads is a disappointing, mediocre film that could have been far better than this.
Coneheads Quotes
There are no approved quotes yet for this movie.