Concert for Bangladesh
(1972)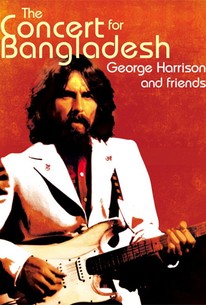 AUDIENCE SCORE
Critic Consensus: No consensus yet.
Critic Reviews for Concert for Bangladesh
Audience Reviews for Concert for Bangladesh
½
In all honesty, I can't really remember specifically what the situation was that the event documented here was a benefit concert for (some sort of social or political turmoil or maybe a disaster or something), and even though it pains me to admit that, I need to be honest and say that the concert overshadowed the purpose, and I'm sure I'm not the only one who feels that way. But on the other hand, since this was a concert for a good cause, instead of just being something that was filmed for the hell of it, it at least gives some deeper meaning to things, even if the tragedy remains hazy and the music doesn't. I mean, let's look at the lineup here: George Harrison, Bob Dylan, Eric Clapton, Billy Preston, Ravi Shankar, Leon Russell, and a bunch of others. Even if this event didn't raise much money (though I'm sure it did), it's one of the greatest events in the history of rock music, and we're lucky somebody decided ot film it. It came out before The Last Waltz, but it doesn't get the same acclaim as that one did. Maybe it's because this one didn't have the cinematic touch of a master like Scorsese. It certainly can't be because that one had better music, because this one's got some absolutely brilliant tunes as well, and stuff that a wider range of people would be familair with, to boot. Both films have some of the same people involved, but like I said, this one doesn't have a master like Scorsese invovled, so the focus is mostly on the music and the cause (though it's been forgotten), so it's presentation isn't quite as amazing. It's still very much a well done show though, even if it is cinematically underwhelming. Again, that wasn't the point. I do enjoy this film, but as excellent as the tunes are, this is a rather forgettable piece of work. Like I said, I can't even remember what this was specifically a benefit show for. I'm giving it very high marks, but that's mostly due to my fandom for some of the people involved. The film hasn't become the culturasl touchstone it should have, but if you ignore that this was for a good cause, you still have a rocking show to fall back on. I think you should give it a shot, but don't expect much more than a typical concert film, even if it did have great intentions behind it.
Chris Weber
Super Reviewer
½
Well, "Bangladesh" isn't much as a piece of filmmaking -- little beyond a concert movie. No interviews, and only a brief flash of backstage action at the start. The oversized, Southern-boogie band dates much of the music, and we're also forced to revisit that ghastly, early-'70s transition when the colorful clothes were gone and "Planet of the Apes" seemed to be the major influence on men's (lack of) grooming. Scrawny George Harrison's hair and beard probably weighed as much as the entire rest of his body. That said, there are some fine musical moments. The opening Ravi Shankar set is arguably too long, but Indian sitar drones are more engrossing when one can see the musicians plucking their instruments with such obvious fire and discipline. Harrison's acoustic version of "Here Comes the Sun" (with Badfinger's tragic Pete Ham on second guitar) is exquisite, and Bob Dylan's set -- particularly "Just Like a Woman" -- is a spectacular reminder of his former skills as a singer. Odd that Eric Clapton's guitar solo in "While My Guitar Gently Weeps" is shockingly feeble compared with his epic work on the original studio track. Perhaps it was the sound man's fault.
Eric Broome
Super Reviewer
Any self-respecting Beatles -err- Music fan should see this. Besides all of George's fresh solo songs, you get to see possibly the only live concert footage of the Quiet One with Ringo playing "While My Guitar Gently Weeps" and "Something". Billy Preston and Leon Russel both steal the show during their songs. It's awesome to see Clapton in his prime. A rare appearance from Bob Dylan during this time period.
Sean Gillespie
Super Reviewer
Concert for Bangladesh Quotes
There are no approved quotes yet for this movie.