Conan the Destroyer
(1984)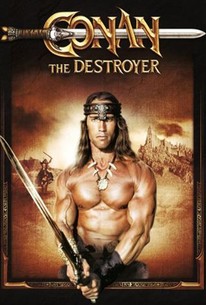 Conan the Destroyer Videos
Conan the Destroyer Photos
Movie Info
Based on a character created by Robert E. Howard, this fast-paced, occasionally humorous sequel to Conan the Barbarian features the hero (Arnold Schwarzenegger) as he is commissioned by the evil queen Taramis (Sarah Douglas) to safely escort a teen princess (Olivia D'Abo) and her powerful bodyguard (Wilt Chamberlain) to a far away castle to retrieve the magic Horn of Dagon. Unknown to Conan, the queen plans to sacrifice the princess when she returns and inherit her kingdom after the bodyguard kills Conan. The queen's plans fail to take into consideration Conan's strength and cunning and the abilities of his sidekicks: the eccentric wizard Akiro (Mako), the wild woman Zula (Grace Jones), and the inept Malak (Tracey Walter). Together the hero and his allies must defeat both mortal and supernatural foes in this voyage to sword-and-sorcery land. ~ Eleanor Mannikka, Rovi
News & Interviews for Conan the Destroyer
Critic Reviews for Conan the Destroyer
Audience Reviews for Conan the Destroyer
So we've had basic plot idea number one: family killed, take revenge. This sequel goes with basic plot number two: given quest by ruler to find something, but its a trick...yes I just blew a huge spoiler so sue me. Yep, the rather devious and clearly untrustworthy Queen Taramis asks Conan to go off and find a sacred object so she can awaken a God, hmmm I smell something fishy. So Conan agrees because the evil Queen says she will resurrect his lover from the first film Valeria if he succeeds, oh come on Conan don't be dumb! Did I mention this was all a big trick by the naughty Queen? The main draw here is the cast really, Arnie's team are a much more interesting group this time with the insane Grace Jones, annoyingly crap acting of Tracy Walter, Mako back as the obligatory team wizard, d'Abo as the young virginal Princess and ex basketball star Wilt Chamberlain, a very colourful bunch. They are all up against the gorgeous and stunning Sarah Douglas who as usual is doing what she does best, being a sexy evil villainous bitch, oh my! The main problem with this sequel despite its better looks, fancy titles, a bigger Arnie and overall slightly sexier production values, is the fact it was watered down. The film aims for more comedy, slapstick and visual buffoonery over blood n violence, nothing wrong with this I guess but for me its a thumbs down. The first film was more adult and gave the film a grittier nastier feel, this just feels like a kids adventure at times. Even with Basil Poledouris booming musical score (first films sounded like 'Total Recall', this sounds like its been extracted from 'Robocop') it doesn't make much difference. I must admit to enjoying these films much more when I was but a mere sprogling. The fact its Arnie in the main role as Conan saves the film from doom in my opinion as there isn't too much more on offer. There isn't much action of note, not much blood, set pieces are drab and the adventure a bit dull, the only thing to lift you is the nice monster sequence at the end (head looks a bit like the Brundlefly creature from the Cronenberg film). That and Sarah Douglas being all sexy n evil (oh my Queen!), for me these films haven't aged so well and I still prefer 'Beastmaster'.
Phil Hubbs
Super Reviewer
½
The 1982 action classic directed by John Millius was a standout piece of action cinema that wasn't perfect, but moved along at a hefty pace to really grab your attention and delivers a thrilling two hours of action packed entertainment. Arnold Schwarzenegger reprises his role as Conan in this follow-up to the original, and it's a more tongue in cheek film than the first. I much preferred the first film, and I felt that this sequel was a decent affair at best, and it was somewhat ent5ertaining for what it was, but compared to the original, I felt it simply didn't live up to the original film. The whole vibe of the film was pretty much layed back, as if the filmmakers didn't care about the results on-screen. Conan the Destroyer is a decent movie that could have been much better than this. The film had lots of potential of being a worthwhile action film, but it does leave a lot to be desired. For diehard fans of the original, you'll probably be disappointed by this film, as it is a step down from the first. There are some good ideas here, and the film does boast some impressive action scenes, however, it never has a truly engaging story to blends well with the action. The first film had both, and it also had a good cast. This sequel, just ends up being a film that is only worth seeing if you have not5hing else better to watch. Decent at best, Conan the Destroyer has plenty of room for improvement, but it manages to be entertaining despite its flaws, just don't go into this one expecting something as good as the original.
This is a great sequel and fantasy adventure film. I really enjoyed it. The story wasn't too predictable, but it wasn't confusing either, it was good and had humor, romance, and surprises as well as action and swordplay. A lot of fun.
Conan the Destroyer Quotes
There are no approved quotes yet for this movie.