Comedy Central Roast of Pamela Anderson
(2005)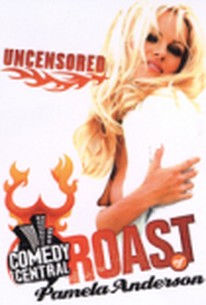 AUDIENCE SCORE
Critic Consensus: No consensus yet.
Movie Info
See bombshell Pamela Anderson on a spit (so to speak) and on the spot as the subject of a white-hot (and completely uncensored) roast by fellow celebrities including Jimmy Kimmel, Andy Dick, Courtney Love and Tommy Lee. The barbs fly fast and furious as Pam tries to deflect the gibes that come careening her way with the velocity of a freight train. Think back to the Dean Martin television roasts ... and then multiply the raunchiness tenfold!
Critic Reviews for Comedy Central Roast of Pamela Anderson
All Critics (1) | Fresh (0) | Rotten (1) | DVD (1)
Comedy being subjective and all that, I can't predict how hilarious you'll find this program. Me, I got 4 or 5 solid chuckles out of it, but not much more than that.
Audience Reviews for Comedy Central Roast of Pamela Anderson
I've always enjoyed Celebrity Roasts and the one where they Roast Pamela Anderson is pretty good, but at times, it get really bizarre, especially when Courtney Love opens her mouth, and makes a real fool of herself. This is your standard Roast, and it doesn't differ from any other roasts, but there were some real gags, the ones that stood out for me were the ones said by Sarah Silverman and Bea Arthur. I thought the worst roasters were probably Andy Dick, who is just creepy throughout his segment, and of course Courtney Love. Love was way too over the top here, and didn't seem to know what she was doing. Overall, this is a fun roast, I just wished they would have selected better roaster than Andy Dick and Love, the rest was a great affair because, really every roaster just roasts not just the main Roastee, but everyone that is going to roast the guest of honor. This is good fun from start to finish, but like I said, some of the roasters should have been better picked, because they're not funny, and just lame. I felt that with Andy Dick, the guy just fails in comedic delivery and his "humor" just doesn't cut it. But everyone else just delivers a great set, and this is worth seeing if you love Comedy Central's Roasts. Don't expect high class humor with this Roast, it never is. The jokes are crude, rude and mean, but it's all in good fun. Nothing presented here is serious, and that's what makes this such a fun and amusing roast. Aside from a few questionable roasters, Every Roaster was great fun, and they each had good jokes. Aside from Andy Dick and Courtney Love, who just seemed out of place, everyone else was hilarious and each brought something interesting to the table.
½
The Comedy Central roasts are some of the funniest events ever to be put on television. This roast with Pamela was no exception, even though it wasn't quite as good as the one with William Shatner. Maybe it's the appearance of the ever-annoying Andy Dick and drug queen Courtney Love that kept me from liking it more. With the exception of those two attention-seekers, this was pure stand-up gold.
Comedy Central Roast of Pamela Anderson Quotes
There are no approved quotes yet for this movie.