Colditz
(2005)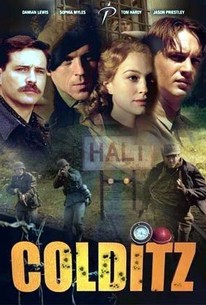 AUDIENCE SCORE
Critic Consensus: No consensus yet.
Movie Info
A courageous group of soldiers plot their escape from the well-fortified Colditz compound in this World War II adventure drama starring Jason Priestly, Damian Lewis, and Sophia Myles. ~ Jason Buchanan, Rovi
Critic Reviews for Colditz
There are no critic reviews yet for Colditz. Keep checking Rotten Tomatoes for updates!
Audience Reviews for Colditz
Average made For TV film dramatizing the numerous escapes of Colditz Castle during the Second World War; this is an entertaining affair, with a cast of varied talent including a young Tom Hardy, Damien Lewis and others. This film really could have been a great War drama, instead it suffers from its traditional TV dramatizations of events, therefore it becomes a bit over dramatic to try and keep you interested. I think that it's a great shame because Colditz really could have been a great film, but it just squanders its a potential on a watered retelling of events. Colditz is entertaining, but it could have been much better as well. The cast do what they can with the material, and they do make up for the sometimes lacking story. Escape films are always great, and considering that this is based on real events, this film should have been carefully planned out and more attention given to the true story. However this is your typical made for TV film, it plays out the fact the way it wants, and camouflages them in a thick layer of drama to shy the viewer away from what's really going on. Colditz is a good film, but one that should definitely have toned down on the fictional elements of the story in order to keep the facts straight. The aspects of the prisoners trying to escape is what keeps you involved, but like I've this one falls short because it tries to be way too dramatic than what it needs to be. I really wanted to enjoy this film more, but it leaves a lot to be desired in the end. As a whole, this is a film purely for mindless entertainment. Read on what happened instead if you're looking for an accurate portrait of the Colditz escapes.
In "Colditz," four allied POW's make a daring escape from a German POW camp during World War II. One is quickly shot dead. That leaves Tom Willis(Laurence Fox), Jack Rose(Tom Hardy) and Nick McGrade(Damian Lewis) to make it within spitting distance of the Swiss border. But, it is never that easy as Willis is caught trapped in barbed wire and Rose injures his ankle, leaving McGrade to successfully catch a train to Switzerland after promising Rose to tell his lady love, Lizzie(Sophia Myles), that he is still alive once he gets back to England. But McGrade is in no hurry to leave Switzerland, until the British authorities conveniently arrange charges against him. Still, England is not all bad as he is promoted to Leftenant and gets his first look at Lizzie... "Colditz" has certain things going for it, especially in its attention to detail, along with making a connection between solitary confinement and psychological damage. That goes to prove that there is more than one form of escape. And there is a certain feral intense chemistry between Tom Hardy and Damian Lewis in the scenes they share together. But the movie gets trapped up in a love triangle that is predictable and cliched, at least until it takes a turn towards something much darker. In fact, that level of soap opera provides an unwieldy juxtaposition with the hardships encountered by the soldiers in a real time and place.
½
If you're looking for a Colditz history lesson, this isn't the movie for you, but if you're interested in a love triangle that just happens to take place during that time, then check it out.
Lovable Misanthrope
Super Reviewer
Colditz Quotes
There are no approved quotes yet for this movie.