Cold in July
(2014)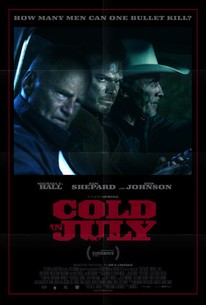 TOMATOMETER
AUDIENCE SCORE
Critic Consensus: Boasting plenty of twists, a suitably seedy tone, and a memorable supporting turn from Don Johnson, Cold in July proves an uncommonly rewarding thriller.
Movie Info
How can a split-second decision change your life? While investigating noises in his house one balmy Texas night in 1989, Richard Dane puts a bullet in the brain of a low-life burglar, Freddy Russell. Although he's hailed as a small-town hero, Dane soon finds himself fearing for his family's safety when Freddy's ex-con father, Ben, rolls into town; hell-bent on revenge. However, not all is as it seems. Shortly after Dane kills the home intruder, his life begins to unravel into a dark underworld of corruption and violence. Twists and turns continue to pile up as the film reaches its inevitable destination: a gore-soaked dead end. Michael C. Hall brings a shell-shocked vulnerability to his portrayal of Dane that contrasts perfectly with the grizzled "badasses" portrayed by Sam Shepard and Don Johnson. Directed with an excellent eye for the visual poetry of noir, this pulpy, southern-fried mystery is a throwback to an older breed of action films; one where every punch and shotgun blast opens up both physical and spiritual wounds. Cold in July is hard to shake as an east Texas summer.(C) IFC
News & Interviews for Cold in July
Critic Reviews for Cold in July
Audience Reviews for Cold in July
An interesting though problematic slice of Texas drama concerning a family man (Michael C. Hall) who shoots an intruder who comes into his house one night, only to have the criminal's father (Sam Shepard) seek vengeance on killing his son. However, when the two discover that there may be more to the case than originally thought, they both enter into a new world full of deception and uncertainty. The writing and directing are both very ambitious, and the acting is wonderful (all three main actors crush it), which makes this movie entertaining and unpredictable. However, there are quite a number of plot holes and twists that are a bit of a stretch, which threatens to tear apart the entire movie before it ends hanging by a thread. Overall, not bad at all considering the way it starts and finishes, I just wish they could have put together a better middle-section to complete this okay movie.
Dan Schultz
Super Reviewer
½
Too many plot-holes/goofs in this intense flick, but that didn't bother me. The only thing that did was the very ending.
familiar stranger
Super Reviewer
½
"Well, boys, it's Howdy Doody Time" Jim Mickle is not a director who's name you instantly recognise but he's one that's been chipping away at career for himself. Along with writing partner Nick Damici, they've delivered some relatively successful, low-budget horror films over the last few years with Mulberry St, Stake Land and We Are What We Are. With Cold In July they've went on a different path and again the results are quite impressive. In 1980's Texas, an intruder breaks into a home and awakens family man Richard Dane (Michael C. Hall) who shoots and kills him. After an investigation by local Sheriff Ray Price (Nick Damici), it's more or less a closed case and Richard is allowed to continue as he was. However, the intruder's father (Sam Shepard) is looking for retribution and begins to haunt Richard and his family which opens up all sorts of new information and how the intruder could have been a set-up, which draws Richard further and further into a dark underworld. Based on the pulp novel by Joe R. Lansdale, there's much to admire in Cold In July's feel for Texan noir. It's reminiscent of the likes of Jim Thompson's After Dark, My Sweet or The Killer Inside Me in driving us down the dirt roads of seedy underworld gangsters and their depravity. Nothing is what it seems and that's exactly the appeal. What begins as a random act of self preservation soon becomes a quest for the truth and vigilantism. Dexter and Six Feet Under's Michael C. Hall carries the film very well but he's aided immeasurably by two old hands in Sam Shepard and Don Johnson. The latter doesn't appear till half way through the film but with his cowboy hat and his Cherry convertible, he injects real energy into the proceedings. Up until then, director Mickle had been tightening his grip steadily and deliberately with his honing of some impressive moments of brooding tension and utilising Jeff Grace's John Carpenter-esque synthesiser score to great effect. It's certainly not without faults; plot strands are left unresolved or discarded entirely and the progression of our main character from doting family man to vigilante, stretches credulity. However, there's enough style going on to allow you to forgive its shortcomings. If, like me, you're a fan of trashy pulp noir then this should go down like a neat little shot. Mark Walker
Mark Walker
Super Reviewer
Cold in July Quotes
There are no approved quotes yet for this movie.