Club Dread
(2004)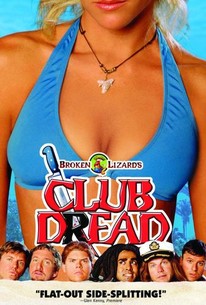 Movie Info
Following up their breakthrough film, 2001's Super Troopers, the Broken Lizard comedy troupe, comprised of Jay Chandrasekhar, Kevin Heffernan, Steve Lemme, Paul Soter, and Erik Stolhanske, took aim at the horror genre and delivered Club Dread. Starring the five members of the troupe along with Bill Paxton, the film is set at an anything-goes tropical resort for swingers. When a psychotic killer starts offing the guests with a razor sharp machete, it's up to the staff to hide the carnage, lest they lose the business of the unsuspecting surviving guests. As with Super Troopers and the first Broken Lizard film Puddle Cruiser, Chandrasekhar directs.
News & Interviews for Club Dread
Critic Reviews for Club Dread
Audience Reviews for Club Dread
The second film from the comedy group Broken Lizard, "Club Dread" looks, is, and delivers stupid on an impressive scale. That's not to say that stupid is always a bad thing. This film promises stupid, from its obvious premise to its still stupid follow-through, but still entertains despite it not being anywhere as good as its predecessor "Super Troopers" or successor "Beer Fest." The film takes place on a party island, inhabited by throes of drunken, sexually uninhibited, and plied college kids who are looking to blow off some steam. The island is run by musician and Jimmy Buffet-esque performer Coconut Pete, played by a very entertaining Bill Paxton, who provides the bulk of the fun to this film. The film stars the entire troupe of Broken Lizard as the island's staff, who are in charge of such innocuous things as aerobics, running a Pac-man hedge maze, and DJ-ing the drug fueled club dances. Their personas are often obnoxious, addicted, and juvenile, only there to party and have sex with all the people they can. In comes the mysterious killer from the jungle, who slices open the staff with a machete while wearing a mask. A campfire encourages a backstory of a staffer who was tricked into having sex with a corpse and then went insane, killing six other staffers, cutting off his genitalia, and hobbling off into the jungle. The film doesn't work particularly well as a comedy, though it does feature gratuitous nudity, funny accents, and infantile humor. What makes this film still enjoyable after that is that the film actually works really well as a horror film. The best horror films have gruesome and imaginative kills, and with the amount of bloodshed, the variety of deaths, and the murderer having an agenda and all the power in this situation, it becomes a rather riveting film. Even the killer is immensely creepy when revealed, and has a hilarious reason for starting his rampage, which is a joke that I still find seriously funny, even now. Though this might not be the film you're expecting out of a comedy group, the horror in this film is horrifying, which remains its saving grace.
Spencer S.
Super Reviewer
It's amazing the things you'll stop on when you're absent-mindedly surfing the TV. Why I watched more than 5 minutes of this I'll never know. A Jimmy Buffet type musician (Bill Paxton) owns an island resort. All kinds of partying takes place, but then people start dying at the hands of a maniac. Tried to be a horror movie, but because it was miserably failing at that, decided to be a comedy instead. I have news for them -- it's failed there too.
I really thought this was funny and a lot different than most comedies. It pretty much took the idea of Scooby Doo and Friday the 13th and made it into a fresh product. While it isn't as perfect at capturing priceless moments as Super Troopers, this still had the great characters and writing.
Conner Rainwater
Super Reviewer
Club Dread Quotes
There are no approved quotes yet for this movie.