Star Wars: The Clone Wars
(2008)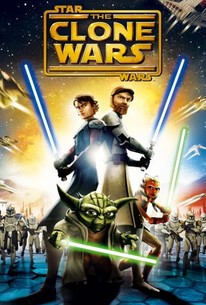 TOMATOMETER
AUDIENCE SCORE
Critic Consensus: Mechanical animation and a less-than stellar script make The Clone Wars a pale shadow of George Lucas' once great franchise.
Star Wars: The Clone Wars Photos
Movie Info
"Star Wars: The Clone Wars" showcases an entirely new look and feel to the galaxy far, far away--combining the expansive scope of the "Star Wars" Saga with state-of-the-art computer-generated animation. On the front lines of an intergalactic struggle between good and evil, fans young and old will join such favorite characters as Anakin Skywalker, Obi-Wan Kenobi and Padmé Amidala, along with brand-new heroes like Anakin's padawan learner, Ahsoka. Sinister villains--led by Palpatine, Count Dooku and General Grievous--are poised to rule the galaxy. Stakes are high, and the fate of the Star Wars universe rests in the hands of the daring Jedi Knights. Their exploits lead to the action-packed battles and astonishing new revelations that fill "Star Wars: The Clone Wars."
News & Interviews for Star Wars: The Clone Wars
Critic Reviews for Star Wars: The Clone Wars
Audience Reviews for Star Wars: The Clone Wars
Star Wars is one of the most well revered Sci-fi films of all time and one of the most well known film series of all time. So the idea of another film seemed like a good idea to expand more on Star Wars history and marketing, but how does this animated pre-prequel hold up. Star Wars Clone Wars takes place in between after Star Wars Episode II Attack of the Clones and before Star Wars Episode III Revenge of the Sith, when Anakin is a new Jedi Knight and has been given a new Padawan named Ahsoka Tano by Master Yoda. While this happens, Jabba the hutts son was kidnapped and the Jedi are being framed by Dooku and his assassin Ventress for the kidnap. To think they got rid of Hayden Christensen, Ewan Mcgregor, and Frank Oz was a bit of a disappointment to me in this film, but overall, these new actors did decent jobs, Tom Kane did a surprisingly good Yoda and Nika Futterman did a creepily good Ventress, and is hands down one of the creepiest star wars characters. Also the return of Samuel L. Jackson, Anthony Daniels, and Christopher Lee were good surprises especially having Lee return as Dooku who is still just as good as he was in Episode II. But other than that, theres nothing really left to talk about about the voice actors except for they were decent renditions. Now the animation is surprisingly decent for a film like this but the problem is that the animation does look stiff at times, but the animation looks incredible in the action scenes and they're close to being just as good as the prequels action, including the lightsaber battles and blaster fights, especially the beginning fight on Christophsis, and the music is very well done and sounds close to John Williams music and makes the battles feel just as grand and big. I will admit doing an animated Star Wars film is a strange idea and only having a couple of the actors from the past films, I find kind of strange, and even now, I still find it kind of strange, but it is somewhat enjoyable, its a guilty pleasure to me. but it does drag on at a somewhat slow and boring pace. The film may not be fantastic and is definitely the worst of the Star Wars Saga, it did lead to something awesome.
Michael Edwards
Super Reviewer
Well, it looks as if George Lucas really has sold Star Wars for the sake of making money off as merchandising. This movie shouldn't have even been released for theaters, it should have just been a special on Cartoon Network. (I'm pretty sure that channel has been declining ever since they got rid of Dexter's Laboratory and Ed, Edd n Eddy.) I couldn't even follow the plot. It had something to do with Jabba the Hutt and his little bastard of a son. That thread even relates to trade routes in the galaxy. So in other words, Jabba the Hutt, the evil and vile space crime lord, needs his son in order to access trade routes for the Jedi. Doesn't that sound like a fun plot?
Tyler Robertson
Super Reviewer
Garbage. Why did they make this??
Colin Montgomery
Super Reviewer
Star Wars: The Clone Wars Quotes
There are no approved quotes yet for this movie.