The Client
(1994)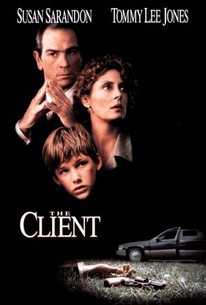 TOMATOMETER
AUDIENCE SCORE
Critic Consensus: The Client may not reinvent the tenets of the legal drama, but Joel Schumacher's sturdy directorial hand and a high-caliber cast bring John Grisham's page-turner to life with engrossing suspense.
Movie Info
A sterling cast headed by Oscar-nominated Susan Sarandon makes this slick thriller one of the better adaptations of a John Grisham bestseller. Mark Sway (Brad Renfro) witnesses the suicide of a Mafia lawyer, who confesses that the Mob was behind the murder of a U.S. senator. Mark's brother is traumatized into a coma by the incident; gangster Barry Muldano (Anthony LaPaglia) is soon on Mark's trail, and in desperation, he arrives at the office of recovering alcoholic lawyer Reggie Love (Sarandon). With the Mob after them, and a ruthless federal attorney (Tommy Lee Jones) trying to force Mark to reveal what he knows, Love battles to guarantee the safety of her client and his family. The relationship between Reggie Love and Mark Sway is the center of the film, adding considerable character development to plot's routine elements. Director Joel Schumacher helmed another Grisham adaptation, A Time To Kill, in 1996. ~ Don Kaye, Rovi
News & Interviews for The Client
Critic Reviews for The Client
Audience Reviews for The Client
I've been a fan of this ever since I was a kid, and back then, I was really in love with it, even though some of it went over my head, and I might have been a little too young to appreciate some of it. But, I've since read the book and watched it a few more times, and yeah, I think it holds up pretty nicely. The plot follows that of a troubled young kid named Mark who, just before witnessing the suicide of a mob lawyer, became privy to some vital information. His brother is comatose due to also witnessing the death, and not only that, but Mark now finds himself hunted by both the mob who want to kill him and a determined federal attorney who wants to make him talk, possibly by force if needed. To help himself out, he gets representation from a recovering alkie lawyer, and their teaming up leads to healing and help for both of them. Like I said, I saw this as a kid, so nostalgia plays a big role here for me. As a kid, I was initially not allowed to see this, becaue my parents thought it was a pretty hard PG-13, but eventually they lightened up, and it became a film we all would watch together once in a while. Since the source material is John Grisham, you know it's gonna be a pretty breezy and thrilling ride, but not without heart and some depth. The cast populating this thing is quite remarkable. Brad Renfro made his debut here as Mark, and it was a great start to an unfortunately short career. Being somewhat unprofessional allowed his natural charisma and confidence to shine through, and he embodies Mark's mix of street-wise toughness and vulnerability with confidence and ease. To back him up, we gets the likes of Tommy Lee Jones, Susan Sarandon, Mary-Louise Parker, Anthony LaPaglia, Anthony Edwards, Ossie Davis, J.T. Walsh. And, they all deliver some good work. This is one of the stronger efforts from Schumacher, and it came out before he began to get swept up in bloated super mainstream crap that, while sometimes entertaining, really doesn't matter.
Chris Weber
Super Reviewer
pretty good court room drama
Actually one of the only John Grisham novels that I've liked and this was definitely the best movie adaption. There's some great performances from essentially everyone and the story seemed to make more sense than it originally did. Joel Schumacher did a great job making this an accessible and fun movie that wasn't full of itself.
Conner Rainwater
Super Reviewer
The Client Quotes
There are no approved quotes yet for this movie.