Cleanskin
(2012)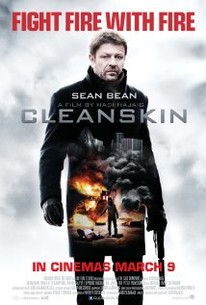 Movie Info
Ewan is a Secret Service Agent faced with the task of pursuing and eliminating a suicide bomber Ash and his terrorist cell, whilst Ash wrestles with his conscience and reflects on his journey to terrorism.
Critic Reviews for Cleanskin
Audience Reviews for Cleanskin
It's a format I've seen before in British crime thriller/political intrigue films, a format I'm not particularly fond of, and Cleanskin isn't even a well done example of it. No letdowns in the acting department though, so credit where credit's due.
Cleanskin is an interesting action thriller with some pretty good performances from its cast, and is aided with an engaging storyline and good direction. Cleanskin works well enough to keep you involved in the story, but at times, it does falter and you can see that there aspects of the story that could have been improved upon. Nonetheless, if you're looking for a good action thriller, this one delivers something quite worthwhile for viewers that enjoy the genre, and there are some pretty good performances here as well. Sean Bean delivers yet again a solid performance, and he more than makes up for the film's shortcomings. Like, I said, the film is pretty good for what it tries to accomplish. However, I do that at times, the film's script could have been rewritten a bit to really make the ideas stand out. Cleanskin is a good film, but it does fall short of what it could have been. I felt that some of the ideas could have been better structured in order to make for an even more solid genre film. Nonetheless, there are enough effective elements at work to make this an engaging and worthy viewing experience. I liked the film, even if it fell short at times. Luckily the cast more than made up for the film's lack in truly engaging storytelling. The film has a good story, but like I said, it could have been better. The film is engaging for the post part, but you're left wanting more as well, therefore it's never really that memorable either. Cleanskin has some engaging moments, but it suffers from a script that seems a bit rushed, and disjointed. Despite this, it still is an entertaining film, and if you enjoy the genre, it's worth seeing. However, you'll probably walk away from this one wanting a bit as well.
A brutal and hard-boiled thriller. It`s 24 meets Bourne with echoes of M.I 5. A fast and spectacularly furious roller-coaster ride. An intense and dramatic action film that delivers plenty of gun-play, fighting, drama, big thrills and lots of suspense and a great twist. A knockout. A pure edge of your seat thrill-machine from start to finish. A great story told from two different perspectives and shows the harshness and tension of both wonderfully and has great character development.. A slick and well-crafted movie that gets under your skin and into your head. An adrenaline-charged action-packed ride that kicks all sorts of ass. Sean Bean is riveting, he gives a brilliant and explosive performance that just shows how great he can be. Abin Galeya gives a gritty and excellent performance. It has a strong cast of English stars including the brilliant Charlotte Ramping, Michelle Ryan and Tom Burke.
Cleanskin Quotes
There are no approved quotes yet for this movie.