Class of 1999 Part II: The Substitute
(1994)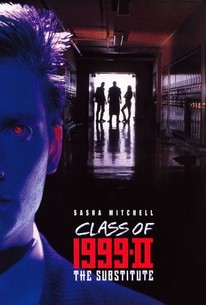 AUDIENCE SCORE
Critic Consensus: No consensus yet.
Class of 1999 Part II: The Substitute Photos
Movie Info
Class of 1999, Part 2: The Substitute was (surprise!) a sequel to 1989's Class of 1999--which was itself a sequel of 1982's Class of 1984. Once again, the setting is an embattled high school, where no mere mortal teacher dare walk the corridors. To keep the homicidally-inclined student body in line, a fleet of android teachers are put on the faculty. The robots went ballistic in Class of 1999, inspiring their students to new heights of mayhem. In the sequel, rogue android Sasha Michael, though trained to kill, attempts to try less drastic means to get through to the students. Michael is shadowed by a sinister stranger, who will not be satisfied unless the android does what he (it?) is ordered to do. Like its predecessor, Class of 1999, Part 2: The Substitute is a very hard "R."
Critic Reviews for Class of 1999 Part II: The Substitute
Audience Reviews for Class of 1999 Part II: The Substitute
½
Class of 1984 and Class of 1999 were very different, but each of them was good in their own way. This sequel, however, is not.
½
Third sequel in the series and this one continues the theme of the robotic killer teachers. This time the last robot is suppose to be A.W.O.L with a CIA op after him/it so he can make more of the deadly robots. Enter 'Kickboxer' star Sasha Mitchell looking like 'Johnny Mnemonic' and Keanu Reeves lovechild all at the same time yet with even more dubious acting skills, if any. We see some martial arts but not too much, we see some yobs getting beaten up by Johnny...errr I mean Sasha and we see plenty of cliched characters that were done much better and were more fun in the last two films. The main problem here is the film isn't really based within a school anymore, its more of a thriller with everything BUT the school environment so its hardly worthy of the title 'Class of 1999'. Other silly issues crop up like the robot teacher seemingly developing a crush on a fellow female teacher and then without warning deciding to kill absolutely everyone it see's. No cool effects, no cult casting and no fun looking sets and costumes, this wasn't needed in all honesty. Mid 90's and too late to pull off what the first two managed. Basically they have milked this idea dry whilst other better franchises have been and gone.
Phil Hubbs
Super Reviewer
Class of 1999 Part II: The Substitute Quotes
There are no approved quotes yet for this movie.